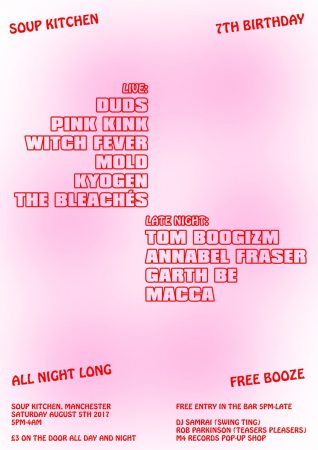 Soup Kitchen present
SOUP KITCHEN'S 7TH BIRTHDAY – LIVE AND LATE
Soup Kitchen, Manchester
Saturday August 5th 2017
Doors 4pm
Tickets £3 All Day and All Night (Kitchen Free Entry)
Soup Kitchen turns 7 this summer and to celebrate they're hosting a 12 hour long party featuring some of new live acts as well as DJs! There'll also be some free booze swillin' around for those who get down early!
Having pulled off a mighty all-dayer of their own at the beginning of the year, things have only skyrocketed for live headliners Duds. They're joined by new North west talent including the genre-hopping Merseysiders Pink Kink, riotous grunge group Witch Fever, the jagged Mold, Kyōgen's ethereal dream pop, and The Bleachés psychedelic drawl.
Then going late into the night with the party starters with Tom Boogizm, and Annabel Fraser, joined by Garth Be, and Soup stalwart Macca.
In the kitchen the M4 Records pop-up shop is open for business, while Robert Parkinson brings the sounds of Teasers Pleasers to the decks once again, before DJ Samrai from the mighty Swing Ting crew brings things home.
Go wish Soup a Happy Birthday!