From time to time, one of our contributors will recommend an artist/band they think deserves to be brought to your attention. No record labels, PR companies, bands or band's management will ever have made these recommendations. It is simply one music fan putting their taste on the line in the hope of sharing good music. The questions are intended to give just a basic introduction to possibly your new favourite artist/band.
So without further ado, let's crack on with another introduction, in which Silent Radio's Peter Rea recommends Mensch for your audible delectation.
*****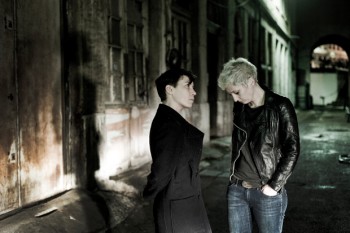 Who are ya?
Vale : Mensch. 2 girls. Vale Poher guitar/voice and Carine di Vita Bass/voice playing on beat boxes.
Where are you from?
Vale : From France. Lyon/Paris. But we can say that we are from Menschester.
How long have you been doing what you're doing now?
Vale : We've created Mensch in 2010.
Is being a musician your full time job?
Vale : yes but it is very difficult.
How would you explain your sound to someone's 90 year old grandmother?
Vale : I d tell her it sounds like a nostalgic music which can make people dance but what has crossed years of music without forgetting its roots.
Are there any obvious influences in your music?
Vale : cold wave, Kraut rock… Joy division, Cure, XX but we didn't realize it. We didn't think about it at all. We were listing to the Foals, Lcd soundsystem etc etc when we've started Mensch
Are there any not so obvious influences in your music?
Vale : The Foals (ahah), afrobeat, soul music, Beatles…Bob Dylan
Apart from yourself of course, what other band/artist would you recommend our readers check out?
Vale : Christine & the queens a French musician, The soft moon, Alt –J.
Best place for people to find out what you are up to?
http://menschband.com/ and you can download for free our first EP.
Anything to declare?
Vale : No, "anything I do say may be given in evidence"