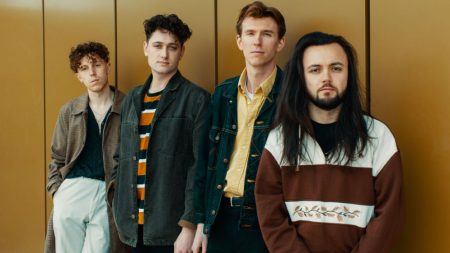 Leeds-based band Marsicans have shared latest song 'Someone Else's Touch' from their upcoming debut album 'Ursa Major'. The video for the song has been shot by their long-term visual collaborators Sodium Films.
Speaking about their new release, bassist and vocalist Rob Brander said:
"'Someone Else's Touch' started its life a long time ago, and is the oldest song to make it onto our debut album. It's also probably the most adventurous song on the record in terms of production. Like many of the things we write, it started life on an acoustic guitar, but at a time when we were trying to push ourselves a little further than six strings. So we borrowed a couple of old keyboards and started building loops and textures that sounded exciting to us. We got so far down a rabbit hole that the first time we played the song to our manager, he laughed. We knew it wasn't the finished article, but were confident there was something special in the noise, so we committed it to a demo and continued to write new music.
After a few years on a hard drive, some fresh perspective, and some crystallizing lyrical additions, we came back to that demo with renewed excitement. Much of the original version still exists within the song, but a magical evening at Rockfield Studios last summer saw the finishing touches to the musical landscaping. Our producer, Mickey Dale, and I came together after a few beers to become a kind of Bradford-Bon Iver for the evening, followed by the only tears of the album sessions as James delivered a beautiful vocal in a darkened corner of the legendary studio. It's a moment, and an evening that we will always remember very fondly, and we are incredibly proud of 'Someone Else's Touch' as a song, and a marker of our perseverance as a band."
The album is set for release on August 14th. The band will hopefully be hitting the road in October to support the release:
October 14 – Aberdeen – Tunnels
October 15 – Glasgow – King Tut's
October 17 – Manchester – Gorilla
October 21 – Bristol – Thekla
October 22 – London – Scala
October 24 – Leeds – Beckett University
 Marsicans Official | Twitter | Facebook | Instagram