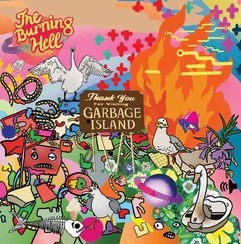 Anyone who writes a song about a gannet called Nigel, which starts with the opening lines "They've all been making plans for Nigel, and by them I mean the ornithologists", is already on to a winner. 'Nigel The Gannet' is a catchy tale of the natural world complete with The Burning Hell's brilliant take on indie pop. The Burning Hell not only have tons of great lyrics, they twist their words into unexpected places. "Sharing dirty microphones with ska bands from the outer zones" vocalist Mathius Korn sings on 'Dirty Microphones', another great snapshot of life from the world of The Burning Hell, this time dealing with the day to day existence of touring DIY style. Last album Revival Beach" from 2017 was awash with great tunes and lyrics, and it seems like with each release they've been getting better and better. I thought they couldn't top "Fuck the government, I love you" from 2016's 'Public Libraries' album, yet here we are with more off kilter pop melodies, greater lyrics, and now on album number nine, a theme of climate catastrophe and the natural world, all delivered with their trademark eccentricity and humour. 
Like a hybrid of Jonathan Richman, Belle and Sebastian, Talking Heads and Will Oldham coupled with the fact that singer Mathius Korn possess a rich deep, vocal tone reminiscent of the late great David Berman of The Silver Jews, or Matt Berninger from The National, along with multi instrumentalists Ariel Sharratt and Jake Nicoll, The Burning Hell have concocted a world of defiant DIY indie pop.. 
The band state that the album was inspired by Mathius Korn's daily trips to the beach, watching the wildlife, and thinking about the Pacific Trash Vortex also known as Garbage Island, a massive floating island of marine debris, yes, sadly, it does actually exist. As well as the three core members, they've enlisted the help of an army of supporters around the globe who submitted field recordings of birds and the natural world, which the band use to great effect on final tune 'The End Of The End Of The World'.
Sometimes albums can creep up on you, invade your eardrums like an unexpected but welcome visitor, and reel you into their world. The Burning Hell are such a band. Even if you've never heard of them before, start at 'Garbage Island' and dive in, there's plenty here to keep your ears entertained. Another astounding album from the indie pop mavericks.
The Burning Hell: Garbage Island – Out Now