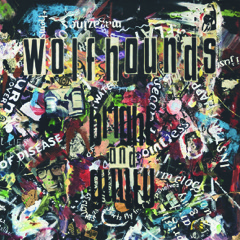 The Wolfhounds' timing was always askew. Coming to attention at the tail-end of the C86 movement, their debut album 'Unseen Ripples From A Pebble' did not fully reflect their garage rock and post-punk racket. By the time they released the far-superior 'Bright and Guilty' in 1989, now reissued by Optic Nerve, music press attention had shifted to American noise bands. Listening now, it is obvious that in their sonic adventures The Wolfhounds matched, if not surpassed, the glories of Pixies and Sonic Youth. Musically, they are every bit as relevant in the 2020s to the extent that on first hearing Fontaines DC, my immediate reaction was that they sounded like an anodyne Wolfhounds. 
Opening blast 'Non-Specific Song' matches a great Andy Golding guitar riff to the howl of Dave Callahan's voice which would sound caustic reciting a nursery rhyme. Callahan has a talent for Dickensian vignettes, creating narrators who personalise the struggles of the time. Written in 1989 after a decade of Tory rule, the observations on privilege and corruption in 'Charterhouse' sound even more pertinent now ("my job is a cook and I do the books…turn thieves into lords and kings into crooks… I just do my job") while the sound is slower and more menacing but with a full array of sonic adventuring.
One of their more instant pop moments, single "Happy Shopper", takes aim at false economies ("It's as bad as that as instant happiness falls flat") and saw them threatened with legal action by the budget food company.
As a time-capsule, 'Useless Second Cousin' has some virtually obsolete technology ("down to the phone box, the one that still works… put your lucky ten pence in the slot") in its tale of futile job hunting together with an abrasive garage riff and a brilliantly abrupt halt. To praise an ending may sound like a back-handed compliment but its worth in shown again on 'Ex-Cable Street' which screeches to an immediate conclusion far more exciting and energising than the lengthy fade out that would be employed by most bands when they had just introduced such a thrilling guitar line.
'Son of Nothing' employs wah wah guitar and hip hop drum rhythms to reflect on the emotional damage of childhood ("what have they done to our son.")
The album's title (taken from the Orson Welles film, 'The Lady From Shanghai') appears fleetingly in 'Ropeswing' in which a Byrdsian guitar line amplifies the mood of sceptical nostalgia. ("Sometimes I hate it and sometimes I want to go back. It's when the job ties you down.")
The energy rush of 'Rent Act' is at odds with its desperate "I'm just looking for a room" chorus and attack on government housing policy. As with 'Anti-Midas Touch' from their debut album, this is the stand-out track that would have been a huge hit in a more just musical universe.
Frank Stebbings' intricate drum patterns come to the fore in 'Invisible People' dancing around high-end guitar manipulation and another uncomfortable Callahan narrator ("I'm not a Catholic but I feel like I have sinned"). Perplexingly, closing track 'A Mess of Paradise' vanishes mid-song which takes the abrupt endings to absurd (lack of) lengths. 
The reissue package includes an additional album consisting of singles. B-sides and outtakes with many notable moments, including a luxurious 4-minute demo version of 'A Mess of Paradise'. 'No Soap in a Dirty War' contains furious slide guitar and a narrator who "always carries the can… am Mr X in the document". 'Red Tape Red Light' returns to the housing crisis to glorious effect as the narrator aims to view a property "abandoned for three years or more/you can see the sky through the roof/ and soil through the floor/ but it has a number and a solid front door". 'I'm Not Like Everybody Else' is a perfect fit for a Nuggets compilation while 'Set Me Free' retains that garage ethos but with a Beefheart tint. 
Within the following 18 months, The Wolfhounds released the mini-album, 'Blown Away', which desperately warrants a reissue, and the full-length, exciting-tuning laden 'Attitude' before splitting. Callahan went on to form Moonshake who successfully merged his bluster with samples, dub bass and Krautrock rhythms. 
In the 21st Century, The Wolfhounds reformed and have thus far released three new albums which have been a rare instance of a reformed band successfully scaling the heights of their first incarnation.
The Wolfhounds: Bright and Guilty – Out 24th June 2022 (Optic Nerve)