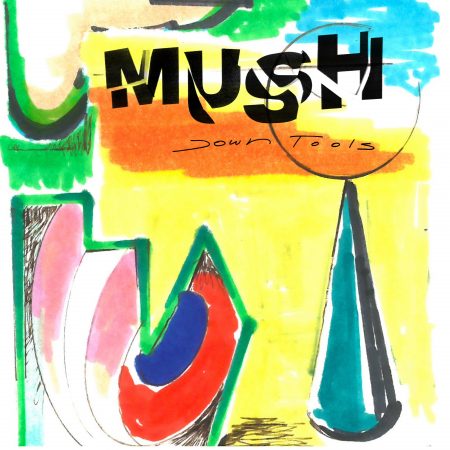 Snappy song titles are a sure way of grabbing attention. Since unleashing 'Alternative Facts' as a Too Pure Singles Club release in 2017, Mush have specialised in the sort of titles that suggest a pithy, barbed, obtuse take on the modern world ('Gig Economy' with its perfect irony for a band, 'Hey Gammonhead!' and 'Poverty Pornography'). Listeners of a certain vintage could easily imagine John Peel announcing these tracks on the radio.
With their third album, 'Down Tools', there is no sign of this gift of the gab and guitar, which have made them favourites of Marc Riley's 6 Music show, abating. Opener, 'Grief Thief' has these qualities in abundance with a killer riff, hook and jerky rhythms. 'Karoshi Kareoki' is an arresting title with the first word being a Japanese term for death by overwork, often by heart attacks or strokes caused by starvation diets but also from suicide due to the mental stress of work, the can't sit still rhythm, reminiscent of The Yummy Fur, aptly but joyfully mirroring the mood.
Advance single, 'Get On Yer Soap Box' is a righteous call to action for the bemused, infuriated and despairing, a buzz of words reflecting the culture wars ("statues and burning effigies… taking off the muzzle… when your common sense is failing, turn on the gaslight… the soap box priest… it's the spoken word Olympics"). Vocalist and guitarist, Dan Hyndman, dubbed it as 'Alternative Facts' but with more cowbell. The song contains one of his improvised, unrepeatable solos and is delightfully unhinged.
'Human Resources' is framed as a David and Goliath battle at work ("I joined the whistleblower's choir… they ain't going to crush us/we've got militant bluster") and hints at the frustrations of petty employers. The preoccupations of bands like Mush that must balance their music with precarious employment are far more relatable than those whose immediate experience becomes moans about the trials of constant world tours.  'Northern Safari' is a frantic observation on the media's portrayal of the north of England and the collapse of the red wall ("a vox pop collage…confirmation bias") while 'Dense Traffic' has a wonky 'Crooked Rain' era Pavement vibe.
'Ink Blot and the Wedge' feels like two songs stitched together, the first section recalling My Bloody Valentine down to Phil Porter's Colm Ó Cíosóig-esque drum roll, albeit without any sweet vocal harmonies, a brief Pavement guitar joining it to a Fall-style rockabilly rumble with some great closing shrieks. 
'Group of Death' sees Mush playing at walking pace, knocking it around comfortably, reflecting how 'Down Tools' has more mellow moments than its full-throttle predecessors. In contrast, 'Ground Swell' twists and shakes itself into a frenzy while 'Interlude' does what it says on the tin being an instrumental and one of the album's least spectacular tracks. 'Burn Suffering' sounds like it has a squeaky toy keyboard underneath another great angular guitar tune.
The album ends with the title track which begins with finger-plucking guitar as they "slip and slide on the aquaplane", until the final minute where it sounds like they have switched on uncontrollable power tools.
'Down Tools' sees Mush emerging triumphant from their post-punk indie group of death as they transcend their influences to create a thrilling sound.
Mush: Down Tools – Out 8th July 2022 (Memphis Industries)