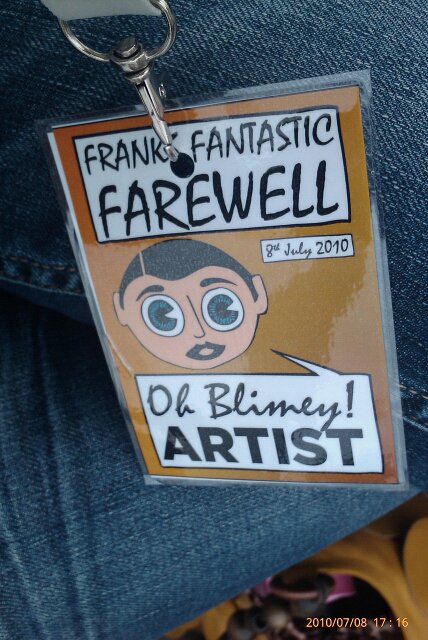 – CASTLEFIELD, MANCHESTER –
"How do you get 5p off your mum? Go to the shop, buy a tin of beans and change the 23p on the label to 28p. Bingo!" – Damon Gough quotes Frank Sidebottom.
Considering I'm at Frank Sidebottom's Fantastic Farewell – the last goodbye to alter ego of Timperley's most famous son, Chris Sievey – I am going to make an ill-timed confession.
I wouldn't admit this if Manchester was not full of people, like myself, from various places across the region, country and indeed, the globe.
But, here goes – as someone who was not brought up in Manchester, I had very little idea, until tonight, just who Frank Sidebottom really was. Or more importantly, what it was exactly that he did. There, I said it!
Two years ago at the Platt Fields Park Summer Festival, I saw him wandering around in a Channel M enclosure, dressed in stripy suit topped with the unmistakable paper mache face.
Of course I knew of Frank Sidebottom, but I just couldn't work out what it was he was doing as I watched him wandering about in his own weird world, shaking hands with passers-by and happily posing for photos with giggling children.
However, between Sievey's untimely death and Frank's Farewell event tonight, several important things have been plain for anyone to see. Sidebottom was an instantly recognisable, unique and imaginative oddball, synonymous with the North and blessed with the ability to relate to the most unmoveable of folks.
Another sign of the impact the comic made upon his home town of Timperley and beyond is that Sievey's fans and admirers respected him enough to donate £20,000 for a dignified funeral due to local press reports.
Arriving at Castlefield Fan Park, which had originally been decked out for the World Cup, the early-July weather is not playing fair tonight, but at least the turnout is respectable. Around 5,000 people have come to pay their respects, socialise, laugh themselves silly and catch some previously unseen Frank moments on the big screen.
Even though it's a post-work crowd and a Thursday night, some people still find the time to dig out their striped shirts, pull on Frank-esque outfits and even fashion home-made paper mache heads.
The mood onstage is no less dedicated, as famous faces such as Damon Gough, Mr B the Gentleman Rhymer, Charlie Chuck and DJ Mark Radcliffe come out to perform, reminisce, say their goodbyes and encourage fans to keep on playing Sidebottom's tunes and videos long after the night is over.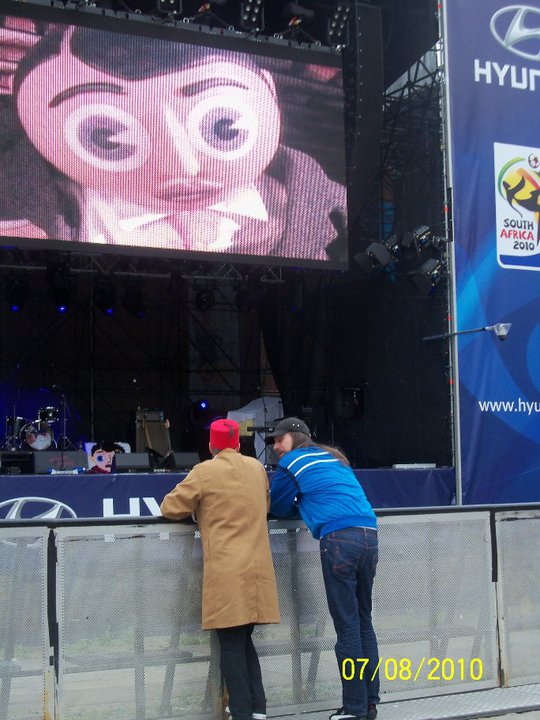 Highlights include endless anecdotes of when they first met both Frank and Chris, a rare video of Sidebottom's visit to drummer Mike Joyce's house and a Badly Drawn Boy medley of popular songs adapted to include Timperley references.
The evening wouldn't be complete without Frank's Oh Blimey Big Band, which is tonight fronted by his lesser-known older brother, Hank Sidebottom.
Ending the night on a no-nonsense comedy high, a sarcophagus adorned with Frank's famous paper mache head is wheeled out for all to see and a mummified replica of sidekick Little Frank is also presented to sit proudly alongside it.
Although it was unfortunate that Chris Sievey lacked bags of money or a reputation far beyond the realms of the North at the time of his death, it is memories and countless laughs that make up the most valuable parts of Sievey's legacy and these will no doubt be held dear by those who encountered the king of paper mache when he was alive.
Those who did not get to say their final farewell to Frank at Castlefield tonight will be pleased to know that this evening isn't so final after all.
There is more to come from Frank Sidebottom in the shape of the bid to get his double A-side single 'Guess 'Who's Been on Match Of The Day'/'The Robbins Aren't Bobbins' to number one in the UK charts. You know what to do.