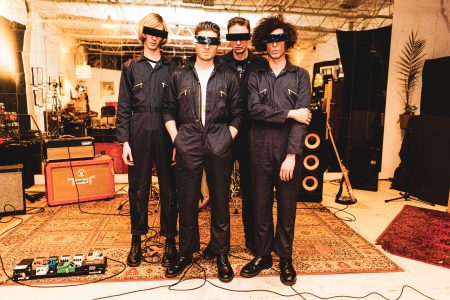 Asylums will release their latest album 'Genetic Cabaret' through the bands own label, Cool Thing Records on July 17th. Their follow up to 2018's acclaimed 'Alien Human Emotions' was recorded with legendary recording engineer Steve Albini.
Vocalist and guitarist Luke Branch on the release:
"Genetic Cabaret was written during the most turbulent time I've ever experienced socially and politically in the UK, I'd stay up late every night binge-watching the news and political punditry and write songs all day. During writing and rehearsals, my wife fell pregnant and the huge emotional impact of that got me thinking about the world I was bringing our child into from a new perspective. I examined political history, human biology, generational divides and emerging technology in equal measure. The resulting album feels leaner musically, harder-edged and with anger and empathy in equal measure"
The first three tracks from the album are already available to hear ahead of the full album release. The latest to be unveiled, 'Platitudes', is below.
 Asylums Twitter | Facebook | Instagram