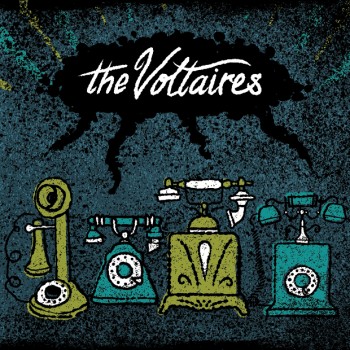 Putting this CD on the stereo and hitting play is like pressing "open" on an automatic garage door clicker, the metal grill peeling back to reveal The Voltaires within, thrashing out the abrasive, snapping garage rock that forms their debut album.
This is not any garage. The Voltaires' magic garage might be located anywhere from the East Village to Venice Beach to Dewsbury West Yorkshire; any place from the 1960s to the 1970s to 2013. But The Voltaires definitely rock that garage chic – the casual, greasy aesthetic of The Strokes, The Stooges, The Stones and most bands beginning "St:. Apart from The Streets. So we have baggy, grungey, distorted guitars trading riffs with more shimmering, jangling riffs on tracks like 'There Will Always Be Cinema' whilst elsewhere across this long player, tracks like '(I Hate) Saturday Nights' display a new wave, almost punk energy whereas 'Eye For An Eye' has a wilful thrashiness to it, seeming to doff its cap to Frank Black and The Pixies. 'Domino Effect' demonstrates the essential percussive punchiness that underpins much of The Voltaires' music whilst for me, the stand-out track is the more loose, low-slung 'Sad Alone'.
The rhythm is tight, the guitars shimmer and shake, the slightly deranged vocals shriek, wail, scream and, for some reason hint of The B-52s. But across all 14 tracks – including the studio outtake 'Critical Mass' that ends the album – there is not a note wasted, as each track arrives, puts the boot in, and then promptly gets off before the rozzers show up. The Voltaires sound authentic and yet manage to exude an unpretentious sense of humour. The press blurb, for instance, describes with Lennon-esque wit how "After several failed attempts to construct a singer out of beetroot and string, the weary musical heart of The Voltaires purchased Gareth Williams for six bob from Schofields department store on The Headrow and set about crafting some songs using the imaginations".
The imagination at the heart of The Voltaires seem unrestricted by the parameters of their garage walls, crafting placeless, timeless garage grunge. Although if you need specifics, it is indeed West Yorkshire 2013.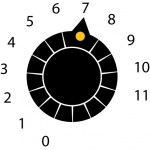 Release Date 01/04/2013 (This Is Art Recordings)