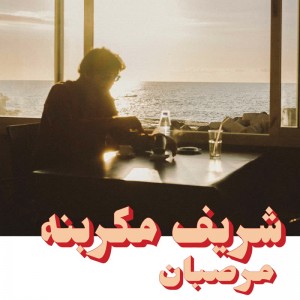 Until now, Habibi Funk Records has specialised in releasing music that was originally recorded decades ago. With their latest release, Charif Megarbane's 'Marzipan', they have unleashed a collection of tracks recorded in Beirut and Lisbon in the second half of 2022. Megarbane is a multi-instrumentalist making what he calls 'Lebrary' music, a mix of Lebanese and Mediterranean sounds expressed via the sonics of library music.
The seventeen concise, instrumental tracks comprising 'Marzipan' display a startling range of instrumentation to create highly evocative sounds that are rich in imagination. Its opener, 'Souk el Ahad' is named after a long-running flea market in Beirut and has a psychedelic feel to it conjured by the opening notes played on a Suzuki-made electric koto. The incorporation of a Japanese instrument into a Middle Eastern arrangement makes for a fresh sound. 'Tarator' slows down the tempo and turns up the mellotron strings while electric guitar goes through a cheap but formidable auto-wah pedal and toy glockenspiel is added to the mix. It is a tune that reveals his debt to Madlib and feels like being swirled around to the point of dizziness. 'Pas de Dialogue' could be taken from the soundtrack to a superior 1960s Italian film with plucked instruments (12-string guitar and harpsichord) together with what sounds like the whirr of an espresso machine. The title track settles into an enticing Oriental disco groove and brings out the derbake drum, melodica and Moog. 
'Chez Mounir' starts off by evoking the chatty atmosphere of Lebanese restaurants in the mountains before switching abruptly but equally joyously with orchestral flourishes to the mood of pre-war Somalia. Although '3aks el Seir' is aimed at conveying the chaos of driving in Lebanon, it is excellently crafted but throws in some unexpected break beats. 'Abou Boutros' is inspired by the British composer Basil Kirchin's ambiguous harmonies but with Brazilian rhythms giving it a distinctive flavour. Side A ends with 'Istintaj', offering a reflective pause courtesy of a variety of guitars (bowed, fingerpicked, lap steel and baritone)
Side B opens with the closest Megarbane comes to a four to the floor beat and a simple melody in a tune named after a popular rose-water drink in the Levant region. Utilising Wurlitzer and bass clavinet to great effect, 'Jara' has a sleazy feel to it, romantic and threatening. Named after the Arabic word for chess, 'Chataranj' could be the theme to a Beirut set spy movie, its mood enhanced by the addition of melodica, surfy guitars, vibraphone and breakbeats. 'Portemilio' takes its title from a resort in Kaslik, Lebanon, its orchestral arrangement often evoking a sun dappled early evening though with a discordant edge seeping through. 
With its bossa nova groove decorated with Farfisa organ, flutes and acoustic piano, 'Pale Beleine' is delightfully frothy. 'Ya Salam' goes for a Motown feel and simple guitar pattern before adding Casio trumpet emulation to create Megarbane's pocket horn section. 'A Parking Lot by the Sea' has the laughter of children playing matched by playful shifts in tempo to create a sense of nostalgia. The closing track, 'Bala 3anouan', loosely translates as "without address" an apt moniker for the cosmopolitan approach in which styles from around the world are assembled on 'Marzipan', in this instance a waltz drenched in reverb. 
'Marzipan' has the level of variety that would normally only be possible on a various artists compilation but pinned together by the thread of Megarbane's joyfully spontaneous creativity. Auto correct suggests his name should be mega brand which seems appropriate and his work ethic would impress even Guided By Voices' Robert Pollard. He has nearly 100 releases under a variety of names, most notably Cosmic Analog Ensemble, on his Bandcamp page so there are multiple opportunities to travel the globe via his melodic soundscapes.
Charif Megarbane: Marzipan – Out 14th July 2023 (Habibi Funk Records)