– Chester Racecourse –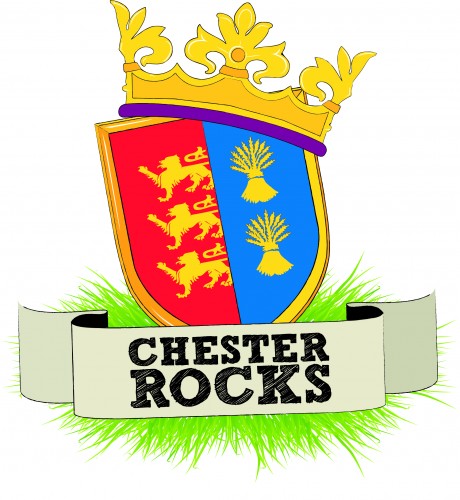 Thousands of revellers are enjoying the sunny weather for the inaugural Chester Rocks festival. The two-day event at Chester Racecourse, treats music fans to big name bands such as McFly, The Wanted, The Saturdays, Iggy And The Stooges, Lightning Seeds, Shaun Ryder, Australian Pink Floyd as well as promising local acts. Much of Britain's music scene is represented, but the festival also showcased the rich and varied talents from Liverpool, Manchester and the wider region.
Sunday is a day for the old school with crowd-pleasing performances from Tommy Scott (Space), The Lightning Seeds, Iggy And The Stooges and head-liners Leftfield. Elsewhere, local stars, Amsterdam pull in a good crowd, as do hotly-tipped Liverpool band, Wicked Whispers, who treat the audience with a hazy mix of 60s psychedelica.
Manchester's famous son, Shaun Ryder, gets the party started later on in the afternoon. Decked out in casual sportswear and holding a glass of fine white wine in his hand, a Bez-less Ryder unleashes a string of hits by Happy Mondays and Black Grape. The party mode drops ever so slightly as the melancholy sounds of Manchester's I Am Kloot flow across the site, but it is soon revived by the time Australian Pink Floyd finish their stunning set, which includes various Pink Floyd inflatables. The guitar playing is excellent as are the vocals by singer Alex McNamara. It's very rare to watch a tribute band that sounds even better than the real thing.
It does not seem too long before the band everybody is waiting for, Iggy And The Stooges, are storming the stage. Mayhem on reigns on the stage from the moment they kick off with 'Raw Power', and Iggy, predictably, is already stripping to well below the waist by the time they reach 'Search and Destroy'. Iggy cuts an extraordinary figure for a man of any age, let alone 64, and has the stamina of an athlete- running around the stage like a crazed dog – hardly stopping to pause for breath. Some audience members (me included) are lucky enough to receive a brief handshake from Iggy as he precariously leans over the barrier. The look of those touched by the hand of the godfather is one of pure wonder and elation, as if they have been blessed by his holiness the Dalai Lama.
The mass exodus after Iggy And The Stooges set means that Neil Barnes' Leftfield are left with just half a race course of ravers as the sun finally sets. That said classic dance hits 'Phat Planet' and 'Space Shanty' still go down a storm as the party continues into the night.