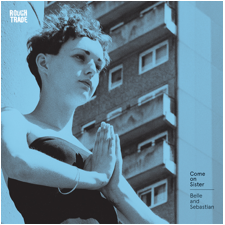 After a year of touring which has included a headline slot at Latitude, 3 nights at The Barrowland in Glasgow and The Roundhouse in London and going for the first time to Korea, Singapore, Indonesia, Argentina, Chile, Poland and the Czech Republic, Belle and Sebastian have one final offering from last year's Belle and Sebastian Write About Love album.
Two of its tracks have been reworked for release on a 12 inch vinyl single which will be released on Rough Trade on 18th July. The band's long time collaborator Tony Doogan has remixed Come on Sister and both Richard X (an old school mate of the band's Sarah Martin) and Cold Cave (a Matador label mate) have put their own stamps on I Didn't See It Coming. Richard describes the track as being "based on the premise that John Hughes could be the group's favourite director and Limahl their primary musical influence." The final track on the 12 inch is Blue Eyes of a Millionaire, which was recorded in LA last year with Tony Hoffer at the same time as the album in March 2011. The remixes will not be available for digital download.
To mark the single release, the band has two new video clips, the first of which is now available: Paul Fegan has directed this clip for the Tony Doogan version of Come on Sister which features the seven band members faced with reality at the end of a year of touring.
The clip for I Didn't See It Coming by Glasgow based artist, Lesley Barnes, was premiered at Offshore in Glasgow on 15th June.
.
After the the album and tour, the band is now planning a break and will be concentrating on writing and recording some songs in Glasgow over the summer as well as pursuing their own projects, including Stuart's God Help The Girl film, Stevie's solo album and Mick's children's album, Down at the Zoo.