I was quite excited for the album 'About Love' by Plastiscines;a quartet of "super-extra-hot French girls" who promised to take us by the scruff of our necks and force-feed us French grunge.
By the time I'd reached track three, my illusions of this band being a part of 'Girl Power' 2010 were shattered, and I was pretty bored. 'Bitch' resembles a bad version of CSS's 'Art Bitch', and the rest of the songs follow suit as sorely disappointing and uninteresting. I had not fallen in love with these Parisian princesses. And grunge? Au contraire!
Their songs attempt to recreate The Raveonettes, Yeah Yeah Yeahs and (especially) CSS, albeit unsuccessfully. Yes, their image is catchy and their performance is sexy but their music lacks any "va va voom" and this album sinks miserably in the mud. The Plastiscines need to go away and come back with something that has balls of steel and doesn't flitter around grunge like a butterfly around a smudge.
As far as I can see, their image is paving a lot of paths for them and I wish them good luck in their quest for musical triumph, but are they going to change musical history?  Non, Absolutement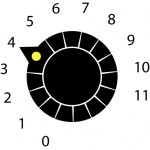 Released 04/08/2009
Review by Ursula Cooper