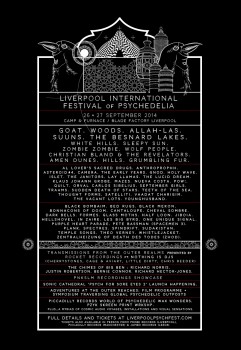 Liverpool International Festival of Psychedelia continue their build up to September with a further round of artists spanning the head music cosmos. Californian beatniks Allah-Las visit the festival in support of their sensational second LP, Worship The Sun, which drops in September and expands on their fusion of West Coast garage rock and roll, Latin percussion and electric folk.
Montreal celestialists and Jagjaguwar recording artists The Besnard Lakes are set to make the trip to Liverpool. Kaleidoscopic design guru and Black Angel Christian Bland hops across from Austin, bringing his Revelators along for the ride and the mesmerising Grumbling Fur call in, armed with a new LP set for release by The Quietus.
These additions join an already scintillating, globe trotting line-up, which is listed in full below. Full artist details are available at LiverpoolPsychFest.com. As well as the music, organisers are pleased to announce the following elements…
* 'PSYCH FOR SORE EYES 2' LAUNCH HAPPENING. Sonic Cathedral and Heretic join Liverpool Psych Fest for an audiovisual treat to celebrate the release of 'Psych For 2 Sore Eyes' – the eagerly-awaited follow-up to the genre-defining EP which combined psych-rock thrills with 3D screen-printed spills to great effect – which will be available for the first time at the festival. This is in addition to curations by Rocket Recordings and PNKSLM.
 * Psych Fest 2014 will play host to a Manchester music institution with a twist, in the form of PICCADILLY RECORDS' WORLD OF PSYCHEDELIC WAX WONDERS. Featuring racks of modern psych releases, re-issues, collectables, one-offs, cuts from our favourite labels and wax from bands on the Psych Fest bill, this will be the ultimate record shop for the psych enthusiast. Expect exciting exclusive upcoming release announcements…
* Psych scenes, communities and festivals are flourishing across the globe; from the occult psych scene of Rome, the Stockholm set and the amazing bloom of shimmering, stargaze psychedelia in Santiago, Chile. ADVENTURES AT THE OUTER REACHES is a symposium and cinema programme set to explore these scenes through conversation and debate with their key protagonists, alongside films produced by and inspired by such communities.
* The festival's very own PZYK SKREEN PRINT WRKSHP will feature artwork from some of the world's best illustrators and designers working within the psych genre, alongside live screen-printing, giving festival goers the opportunity to press their own unique prints.
LIVERPOOL INTERNATIONAL FESTIVAL OF PSYCHEDELIA 2014
26th + 27th September @ Camp & Furnace, Liverpool.
** Weekend tickets on sale now, priced just £50 **
Available from www.LiverpoolPsychFest.com and instore at Probe Records (Liverpool) / Piccadilly Records (Manchester) / Jumbo Records (Leeds).