– SOUND CONTROL, MANCHESTER –
There's something very 'Ian Brown' about the way Brad Hargettt, lead singer of Crystal Stilts, approaches the microphone. Though he sings like Jim Morrison on downers. The huge impact made when they start their set can partly be accredited to a support band.
Dirtblonde are playing early when I arrive. The duo from Liverpool, Ivan Hell on guitar and Lula Blue on vocals/bass play over a muggy programmed drumbeat that has me peering into the dry ice to spot a non-existent drummer. Dark lyrics such as "time of my life, under the knife" float over escalating out of control wall of noise guitar, like No Age with The Ettes vocalist. They finish the impressive set in front of a disappointingly sparse audience by grinding their instruments on the barrier and hurling plastic pint pots towards the crowd, who are huddled around the sound desk out of range.
Their apparent anger is due to a late addition to the line up. Ghost Saddles are on next, with friends in tow, swelling the crowd. The lead singer shows confidence and arrogance, despite singing flat and with little emotion. His vocals seem incapable of communicating any passion that he may contain and meanwhile, the bass player has a smug grin on his face for some reason. Comparing these to any famous band might be considered an insult. They're like Maximo Park, fronted by Billy Bragg, if either had little talent or motivation. They admit 'Leave Me Alone' cleared the room in Leeds the previous night and it's easy to hear why. The bassist now appears to be laughing at their own lyrics. Terrible.
Thankfully, Brooklyn 5-piece Crystal Stilts begin and everyone gathers at the front. Keys player Kyle Forester supplies the haunting backdrop for JB Townsend's jangly, Pulp Fiction, teardrop shaped Fender. Drummer Keegan Cooke shakes a tambourine and smacks his tom with an orange maraca. They're The Jesus and Mary Chain with less reverb or The Eighties Matchbox B-Line Disaster, covering Joy Division. Bassist Andy Adler provides deep, groovy, repetitive hooks, inducing dancing or at least, unavoidable foot tapping. Brad clasps the mic close to his mouth, occasionally flickering his eyes upwards as if on something. When unemployed, he swaggers around with hands behind his back before possibly becoming aware of imitating Liam Gallagher.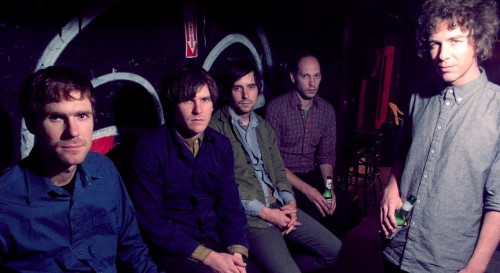 First album 'Alight of Night' favourites 'The Dazzled' and 'The SinKing' inject excitement between the deep, washed out and understated slower tunes. Slower, but mesmerising, none the less… suddenly coming to life to dowse you with a wave of euphoria. Kyle tells of their last Manchester gig at The Ruby Lounge, which was followed by a strip show. There's a club night for teenagers downstairs right now with "kids puking in the toilets"… he expects when he returns once more there will be "something involving animals" going on.
Latest album 'In Love With Oblivion' tunes 'Sycamore Tree' and 'Silver Sun' strengthen their arsenal, and 1st album favourite 'Departure' thrills the crowd, but single 'Shake The Shackles' sounds like 'Departure' with the treble cranked up. It proves to be the highlight for me, putting a smile on the faces of amongst all and adding an exclamation mark to the performance. They finish with an epic slow burner that never let's go of your attention and completes their tour, leaving behind a buzz of excitement.
The possible influences mentioned shouldn't dissuade anyone from getting into this band, the material is fresh enough, and thirty second sound bites don't do them justice. They're fusing some of the best features of some great bands, creating something that a new generation can get involved with. Crystal Stilts threaten to revive an 80's genre that deserves a revival.