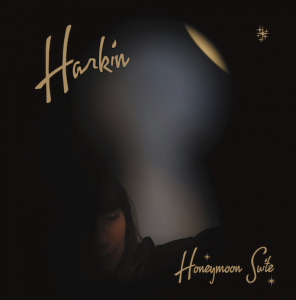 Although we are officially at the "living with Covid" stage of the pandemic, otherwise known as pretending it no longer exists, the backlog of vinyl releases means that streams of lockdown records are emerging bleary-eyed into daylight. Even if lockdown might not be the overwhelming subject matter of Harkin's 'Honeymoon Suite', the recording process was a consequence of 2020's circumstances which forced stylistic change upon Katie Harkin. Her three albums with Sky Larkin had been guitar-led and with their crisp, powerful, inventive approach had been among the very best left-of-centre indie rock releases of the 21st Century. Her self-titled debut suggested less reliance on the guitar but not to the extent of the electronics dominated 'Honeymoon Suite'.
The title references the nickname Harkin and her wife, the poet Kate Leah Hewett, gave to the one-bedroom flat in England that they relocated to from New York at the start of the pandemic after a drastically scaled-back wedding. Recording was constrained by their living arrangements so while Hewett worked on a remote call centre job, Harkin was constructing the album in the same room. As the flat was above a pub, she programmed drum machine and synths during the day, recorded guitars over the noise of pub-goers in the evening and squeezed in vocals on weekend mornings. The additional musicians sent their contributions through the wires and the album was mixed and mastered remotely by, respectively, Jeff T Smith and Guy Davie.
The album evolved out of synth drones but while that creates an image of an earnest young person crouched over technology producing endless dirges, fortunately 'Honeymoon Suite' is, with one exception, song-based and dripping with tunes that reward repeated listening by revealing extra layers.
Opener 'Body Clock' sets the template with its electronic squiggles and synth surges, urging "come on get out of bed" but radiating a sense of unease, "Tell me who are you putting yourself in harm's way for?… For someone you've never met?" In contrast, 'A New Day' is a radiant, refreshing love song ("she tastes like a new day").
'Here Again' drifts gloriously with electronic glitches and muted brass from Nate Walcott and Aaron Roche. Along with the following track, 'Matchless Lighting', it is a highlight of the album. The latter is a quiet song that commands rapt attention with its slow pulse building to a windscreen wiper rhythm and intriguing lyric "for years I've been shrugging at miracles…are we the skin in the milk or the fly in the ointment… a vending machine of sweet talk".
With its motoric rhythm and sense of activity '(Give Me) The Streets of Leeds' is a yearning celebration of one of England's leading DIY music cities. Maintaining that desire for the great outdoors, 'Mt Merino' has Harkin regretfully singing "goodbye to Mt Merino… do I really have to leave here on the sunniest day of the year" as electronics conjure up vultures and explosions while "the ancient part of my mind tells me everything's fine".
'Talk of the Town' is a sweet howl of defiance ("we've always held our ground/ who cares who's the talk of the town") and 'To Make Her Smile' has Harkin's voice inspiring that knot in the stomach moment that music is best at producing while synths twist and wriggle.
Closing track, 'Driving Down A Flight of Stairs', feels like a refugee from a different album, an 11-minute abstract meditation in which drones drift airily and water trickles amid the crackles of trying to connect with the outside world.
Whilst Katie Harkin's name is largely unknown to the wider public, many may have encountered her, either as part of Sleater-Kinney's and Wild Beasts' touring band, singing backing vocals for Dua Lipa on Saturday Night Live or duetting with comedian Sarah Silverman on the Frightened Rabbit tribute. 'Honeymoon Suite' is further proof that Katie Harkin should be celebrated in her own right.
Harkin: Honeymoon Suite – Out 17th June 2022 (Hand Mirror)