– KRAAK, MANCHESTER –
One of my favourite scene's in cinema history: Fight Club – Tyler and Co. walk through the bar down to the hidden, dark and dingy basement where grown men choose to punch each other for fun… Tom Waits 'Goin' Out West' is on the jukebox. Entering Kraak when a rock band are playing, reminds me of this.
Factory Acts are the first of two supports tonight, the projected imagery of Manchester and a hint of The Stone Roses in their sound immediately expose them as locals. They're a male and female two-piece, the former plays funky basslines in a rock-stance, while the female vocalist shouts at you over various triggered electronical soundbites. They're like PeakingLights, mixed with the harsher tones of The Knife.
I unfortunately miss most of Severin because I'm taking photos of the headliners in the alleyway outside. GHXST are a New York trio who, if we're judging books by  their covers, have distinctly different musical influences… from Nathan La Guerra's camo shorts, vest and dog tags, to the head-to-toe goth male guitarist Chris Wild, and grunge shirt wearing vocalist Shelley X.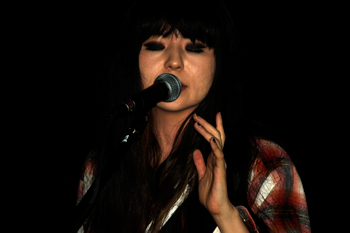 They describe themselves as 'Deth Grunge', but while their influences include the likes of Nirvana, the comparisons are greater or less apparent from song to song. Goth industrial rock, with a wry singing style and a touch of The Jesus and Mary Chain, is the best that I can come up with. 'Bad Blood' eases us into the set, early Placebo is thrown into the mix here, and then some Grinderman during 'Evening Redness'.
'Doomgirl' carries an infectious chorus, the set has certainly gone up a gear. New tune 'Idiot Dust' is about trying to lay off the drugs and proves to be a highlight, along with a superb cover of Rob Zombies' 'Dragula' and 'Deth Valley' from last years album 'EVILWICKEDDESIRE'.
'Shallow' is the grungiest and most laidback moment. They finish with new single 'Black Camaro', which oozes cool (as you'd expect from the title) – growling guitars and distant vocals over a heavy drumbeat have the crowd stomping their feet amid an array of camera flashes.
Kraak have a reputation of hosting bands that are on the verge of greater things, although the headcount in this small, hidden venue remains much lower than the talent on display deserves. I strongly advise heading here if you want to see fresh bands such as these, where the sound is perfect and the atmosphere is friendly and un-pretentious, before  a few hundred other people conspire to obstruct your view.