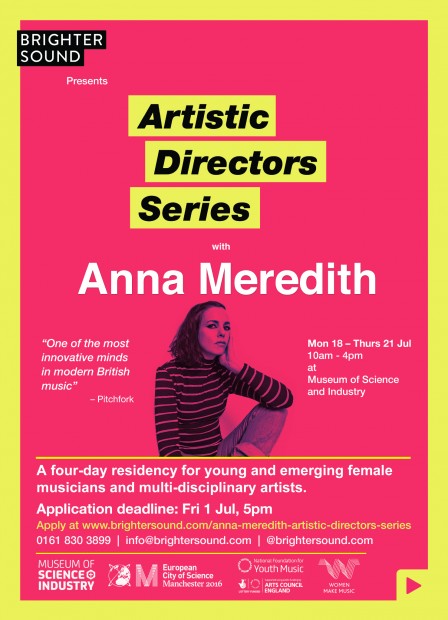 Brighter Sound, in collaboration with the Museum of Science and Industry, are excited to announce that the incredible Anna Meredith will be leading their next Artistic Directors Series alongside guitarist and composer Jack Ross and visual artist Eleanor Meredith.
Anna will lead a four­ day residency from 18th – 21th July for young and emerging female musicians and multi­disciplinary artists to collaborate and create new work inspired by the Wonder Materials: Graphene and Beyond exhibition at the Museum of Science and Industry. Produced as part of the programme for the Science in the City Festival, and in wider celebration of Manchester as the European City of Science 2016, the work will be premiered at the museum's Science in The City Late event on Wednesday 27th July.
"I'm so excited to be leading Brighter Sound's summer residency in partnership with the Museum of Science and Industry – this fascinating museum is going to be a brilliant starting point for new musical and visual work and I can't wait to see what we all come up with! I'll be bringing in my longterm collaborators, workshop­leader and guitarist Jack Ross and my sister, visual artist Eleanor Meredith, with whom I've worked on several successful cross­ media projects over the years. We're all passionate about supporting young female creators, and collaborating on new work in such an inspiring setting will be a great place to work together, exploring both collaborative large group pieces and giving space to develop individual ideas." – Anna Meredith
Anna Meredith is a composer, producer and performer of both acoustic and electronic music. Her sound is frequently described as 'maximalist' 'uncategorisable' and 'genre­defying' and straddles the different worlds of contemporary classical, art pop, electronica and experimental rock. Her music has been performed everywhere from the BBC Last Night of the Proms to flashmob body­ percussion performances in the M6 Services, PRADA fashion campaigns, numerous films, installations and documentaries, pop festivals, clubs and classical concert halls worldwide and broadcast on Radio 1, 2, 3, 4 & 6. Her debut album, Varmints has just been released on Moshi Moshi/PIAS and has already attracted numerous 4 and 5 star reviews from press and media around the world including Pitchfork's coveted Best New Music.
She has been Composer in Residence with the BBC Scottish Symphony Orchestra, RPS/PRS Composer in the House with Sinfonia ViVA, the classical music representative for the 2009 South Bank Show Breakthrough Award and winner of the 2010 Paul Hamlyn Award for Composers. Her recent piece "Connect It" (was written for the BBC's award winning Ten Pieces scheme which involved half of all UK Primary school children working on "Connect It" as well as Anna leading broadcasts, workshops and performances including at Radio 2's Proms in the Park to 40,000 people.
This is a unique and special opportunity for young and emerging female musicians and multi­ disciplinary artists from across Greater Manchester to work intensively with Anna, Jack and Eleanor to challenge their creativity against this innovative backdrop.
"It's the sort of opportunity that money can't buy, that decides a career, turns on a light, ignites a creative candle – a candle that shines upon your face and lets the world know who you are. It's the kind of opportunity that can give someone the boost they need for stepping on into the next generation of British music"– Bethan, residency participant.
Application information
All female musicians (composers, performers, producers etc.) and multi­disciplinary artists aged 16­-25 are invited to apply.
Dates: Mon 18 – Thurs 21 Jul 2016, 10am – 4pm
Performance: Weds 27 Jul 2016 (Day rehearsal and evening performance, times TBC)
Applicants must be available to attend all sessions in person at the Museum of Science and Industry, Manchester.
Expenses: £100 for the five days (four­day residency plus performance day).
Applicants must be female and aged 16­-25 years
APPLICATION DEADLINE: 5PM, Fri 1st Jul 2016 5pm
APPLY HERE