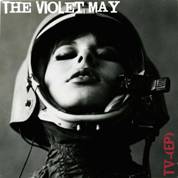 The Violet May are set to release their debut EP 'TV' on June 27th on Oh! Inverted World Records. The EP will be available in all formats. Preceding the release of the EP, the lead track 'TV' will be available digitally via I-tunes on May 23rd. The five-track EP was recorded with Alan Smyth (who has previously worked with Pulp, Arctic Monkeys, Long Blondes) at 2Fly Studios in Sheffield.
Guitarist John Kubicki and singer Chris McClure first bonded over a shared appreciation of Queens of the Stone Age, Masters of Reality and Screaming Trees amongst others, while discussing a mutual irritation with conveyor belt, paint-by-numbers indie bands.
"We'd lost faith in British guitar music," says Sheffield-born McClure. "There was twee indie band epidemic! We were all fed up and that brought us together."
Disillusionment created a common ground between Kubicki, Jono How (guitar), Dan Booth (bass) and Alan Whittaker (drums, who played with Kubicki in a previous incarnation).
The video for 'TV', directed by Jesus and Mary Chain's Douglas Hart for zero pence, featured the band in the den of iniquity that is London's Stringfellow's Club. It was a move less about the strippers and more of a nod to Peter Stringfellow's past, booking everyone from The Beatles, Stevie Wonder and Hendrix to play his Sheffield venue The King Mojo Club. (Original posters for those gigs can be glimpsed in the background.)
If McClure's face looks chin-scratchingly familiar it's because you've seen him shaven-headed, squinting and dragging on a cigarette, starring down from billboards, buses and in record stores on the cover of the Arctic Monkeys seminal debut. Hailing from the same area as Alex Turner, McClure Jr guitar teched for the Monkeys on their early tours before giving it up to concentrate on university.
Tour dates:
Friday 24th June – SHEFFIELD – Plug (supporting Kate Jackson)
Saturday, July 2nd – BIRMINGHAM – HMV Institute
Saturday, July 16th – MANCHESTER – Night & Day
Friday, July 22nd – SHEFFIELD – Tramlines
Saturday, July 23rd – SHEFFIELD – Tramlines
Friday, July 29th – LONDON – KOKO (Club NME)
Saturday, Aug 6th – STOKE – The Underground
Saturday, Aug 14th – NEWQUAY – Boardmasters Festival