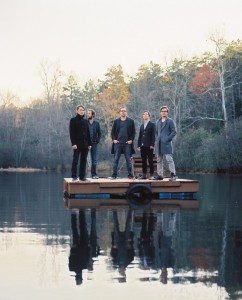 – ACADEMY 2, MANCHESTER –
As a relative newcomer to the music of Gomez, I'm not entirely sure what to expect from tonight's Academy 2 gig, but based on good feedback from many fans that'd seen their shows and several intensive Spotify sessions, I've come to see their live act with high hopes.
Support band Little Comets provide a contrast to Gomez that they are well aware of ("thanks for not leaving" lead vocalist Robert Coles says to the crowd) with their driving, yelping indie rock. Their set is coloured by creative percussion; a rope hanging across the front set of amps suspends a bead shaker, a tambourine and a sizable frying pan over the heads of the three guitarists for them to reach up and shake, grab or whack when they aren't playing their main instruments or layering vocals. A large chunk of the Gomez crowd are very into it, but closing track 'Dancing Song' with frank refrain "this one's for dancing" fails to get most of them really moving, although they make their appreciation clear in more subdued ways.
Gomez play a solid mix of alt-rock, blues and more laidback, country sounds. Much of the music is led by guitarist and singer Ben Ottewell, with a depth and brightness to his voice, underpinned by a rawness he makes full use of on their harsher sounding songs. The band take full advantage of the scope having three accomplished singers gives them, with Ottewell, Ian Ball – a solo songwriter in his own right – and keyboardist/guitarist/singer Tom Gray sharing vocal duties.
Gray takes on the job of engaging with the crowd, having more luck getting them moving than Little Comets did. His words "I think you should all dance to this one. I know it's hot in there, but I think you should embrace it" before gravelly acoustic blues number 'Here Comes The Breeze' definitely hit their mark. Ottewell however is conspicuously silent between songs, having been ill all day as Gray explains, but this doesn't stop him playing astonishing blues guitar and making full use of the power in his voice. Three layers of guitar and a bass do end up sounding somewhat muddy at times, but Gomez keep the music tight throughout.
There is a real warmth to the crowd (aside from the fact it was boiling in the room) that must be present at all Gomez gigs. After a minor skirmish near the front, Gray's words "Whatever that shit going on down there is, cut it out! It's a fucking Gomez gig, dickheads!" might give you a clue as to exactly what the mindset of the Gomez crowd is. Mostly they are (apart from the dickheads) here to really enjoy the music some of them have been listening to for over a decade.