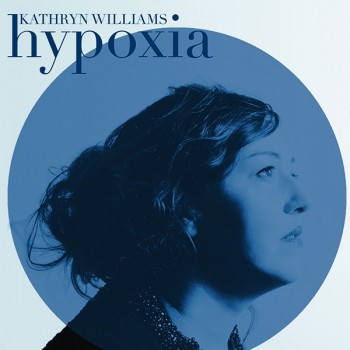 The new album from Kathryn Williams owes its origin to a commission from New Writing North for the Durham Book Festival, when she was asked to write songs inspired by Sylvia Plath's book The Bell Jar. It was a daunting prospect for the Liverpool-born singer-songwriter and after returning to the source text, the initial five songs for that project soon turned into the wonderful nine-track album that is Hypoxia.
For Williams, it's the 12th album of her career, which is hard to believe as it only seems like yesterday that she released her highly acclaimed début Dog Leap Stairs. The album title is taken from the medical term when the body lacks oxygen supply, a reference to Plath's untimely demise and the book's main protagonist, Esther Greenwood's fascination with suicide. There are numerous references to the text throughout, and for an album that has been inspired by something as darkly haunting as The Bell Jar, Hypoxia certainly isn't heavy going, far from it.
Sonically Hypoxia resonates with much of Williams' career to date. The beautifully sparse 'Electric' opens up the album with its delicate shimmering instrumentation and tender vocals. 'Mirrors' would not have sounded out of place if it had been written for her 2011 project, The Pond. 'Battleships' is a haunting tune, with its softly plucked guitar strings, ghostly theremins, and the repeated lyric of "ticking, ticking bomb" delivered in almost a whisper at its end.
Co-written by the album's producer, Ed Harcourt, 'Cuckoo' is the album's stand out track and the one that you will find yourself humming when you have stopped listening to the album, and 'Tango with Marco' is not far behind, its slow building tune packing a lyrical punch.
'Part of Us' rounds off the LP in the same delicate way that has been a signature of the album a whole. The fragility of the song is given a certain weight with the lyric, "The last time I felt lonely, the room was full."
Overall Hypoxia doesn't veer too far from the standard Williams template. Why should it when that standard is as beautiful as it is on this record and those that have come before it? There is much to like about this album, and if you have yet to add a Kathryn Williams album to your shelf or your music library, Hypoxia would act as the perfect introduction.
Release Date 15/06/2015 (One Little Indian)
Kathryn Williams Official | Facebook | Twitter | Soundcloud