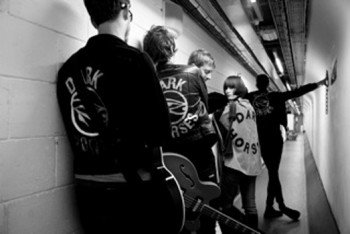 Little did Kasabian's Serge Pizzorno know that when he pressed PLAY on his Cape Town tour bus CD player to first listen to Dark Horses, that before the song was over he would be surrounded by two armed response team's, pushing revolver's in his face demanding him to stop this 'disturbing and unholy clamour'… consequently the band toured with  Kasabian on their last UK tour, which also included 2 nights at Wembley Arena.
Fronted by Swedish siren Lisa Elle, a holy communion of Grace Slick and Siouxsie Sioux, Dark Horses are a leather-clad, neo rock outfit, whose name is proudly emblazons upon their black motorcycle jackets… gang chic style, along with the band's motif… the mysterious red pyramid and the all seeing eye. Dark Horses come across as Stooges meets the Manson Family, mixed with Andy Warhol's Factory art collective. And this only fuels the band's mystique.
They have their own unique blend of Banshee's guitar invocation, mixed with an healthy dose of Krautrock and have not only toured with Kasabian, but also Black Rebel Motorcycle Club in the not too distant past.
The band's debut album will be released in the autumn by Last Gang Entertainment. It was recorded in Chicago's Key Club studios with Richard Fearless from Death In Vegas.
Dark Horses are:
Lisa Elle: Vocals/Harmonica – Bobby Waterson: Guitar/Organ – Andy Bang: Guitar – Steve Ingham: Drums – Harry Bohay-Nowell: Electric bass – Tommy Chain – Percussion/Chains
Listen on Soundcloud