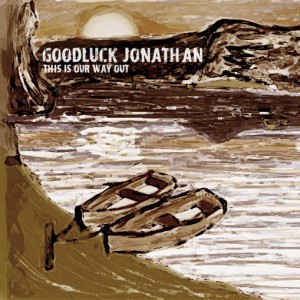 Sometimes, when you sit down to write a review, you have to be honest with yourself. I consider myself to be someone who 'gets' the music that falls within post-hardcore's boundaries. But do I enjoy it? That is another matter.
There is fun to be had when listening to experimental, futuristic sounds and song concepts. But the usually overwrought delivery can be a turn-off, particularly when a singer is earnest about the challenge posed by timekeeping on Neptune.
What someone like me can enjoy, undoubtedly, is Goodluck Jonathan. Sharing a name, quirkily, with the Nigerian president, the Brighton five-piece take inspiration from post-hardcore and blend it with an infectious punk aesthetic, creating a sound that is appealingly 'of this world'.
Their debut full-length This Is Our Way Out brings together tracks from three previously-released EPs. As the liner notes suggest, collectively the eleven songs tell a story; a story that is Goodluck Jonathan's attempt to capture the emotion and complexity of their youth. Befitting the band's ambition, there are political references. Allusions to 9/11 and Osama bin Laden surface in 'Fall of America', while 'Bruises Disappear' describes incidents of insensitive treatment of Afghan asylum seekers by European authorities.
The situations and feelings portrayed in each song are absorbingly created, right through from the insistent, spiky opener to the concluding, title track, which talks of rowing away to a better life. (The cover art, incidentally, depicts a shoreline and two tethered boats; one for the band, perhaps, and the other for the listener.)
A solid all-round effort, the energy and care that has gone into crafting these powerful songs makes certain that This Is Our Way Out is a story you will want to hear.
4/5