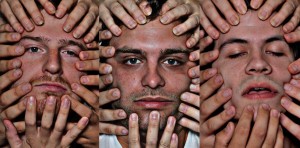 – NIGHT & DAY CAFE, MANCHESTER –
What's going on here, then? Why has everyone swept to the front like some kind of beardy avalanche to see the support act? It transpires that Kingston trio, Tangled Hair, are a remoulded version of Colour, the math-pop pioneers who split in 2009 and whose delicate template Tubelord took and hammered into an altogether more demented beast.
With tempo changes a-go-go to navigate, they aren't as overtly poppy as their former outfit, with the hooks coming in brief bursts of energy rather than the more obviously placed choruses of old, but it works brilliantly.
They're just as entertaining between songs, their plummy voices sounding like Jack Whitehall and Michael MacIntyre discussing their fox hounds over a glass of port, while teasing us with news about This Town Needs Guns (they've got a new singer) and serenading a sheepish punter with a rendition of Happy Birthday via Careless Whisper. Good stuff.
Whispered of in hushed tones throughout math-rock circles ever since their gobsmacking Complex Full Of Phantoms split album with By The End Of Tonight in 2007, Tera Melos, the Sacramento quartet with more pedals than the Tour de France, are here on their début UK jaunt.
They aren't that band, anymore, though. Current LP, last year's Patagonian Rats, sees Nick Reinhart reign in much of his psychotically complicated fretwork in favour of recognisable riffs, and the addition of vocals (wishy-washy as they are) brings a semblance of normality.
Sadly, the intricate top end of the sound can only really be heard from the safety of the toilets to begin with, but Reinhart's fingers are a constant blur regardless, a golden spiral of digits which would make Dire Straits fans choke on their dainty opera glasses.
The band grow into the set with each song, the slightly underwhelming early knockings being blitzed from memory by the wizardry in front of us in the second half and a barrage of tunes choppier than the combined power of the Seven Seas.
Refreshingly, they admit at the end that they haven't exactly played a greatest hits set and they hope the faithful aren't too disappointed, but it doesn't matter, once Tera Melos hit their stride there's very little that can touch them. It took them seven years to make it over here, so petition your MP, hold a raffle, run the marathon, just do whatever you can to bring them back soon. It'll be worth it.