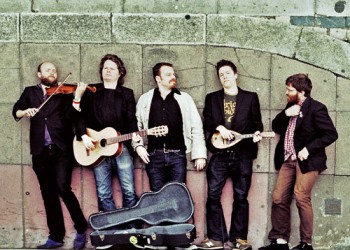 – BAND ON THE WALL, MANCHESTER –
Band On The Wall is a classy venue that attracts quality acts for genuine music lovers. The first support Dan Whitehouse sings alone onstage with his guitar to an attentive, silent audience. After the song he comments on how nice it is to finish a tune and realise more people have arrived. It's also refreshing for the audience to fully understand what the musician is saying when he's not singing… and also when he is singing.
A dozen or so small tables are scattered in front of the stage, as in a traditional jazz club. All tables are occupied and others stand behind, or look down from their seats in the balcony.
Sian Webley, Anna Kashfi's lead singer, doesn't know where to look while the band play and she's not singing. Her songs are very personal, occasionally folky, and sometimes country. Her voice reminds me of Kate Rogers and the music is dreamy and melodic. Though based in Manchester her accent is very southern indeed, as she explains when and why she wrote these tunes. The warm and relaxed vibe of the evening continues.
The Miserable Rich are a cellist/pianist Will Calderbank, violinist Mike Siddell, double bassist Rhys Lovell, guitarist Jim Briffett and vocalist James de Malplaquet. James wears a grey suit with a red tie, black shirt and has a large thundercloud weatherman symbol on his lapel. As with the support acts, James eloquently addresses the audience with confident wit, reminding me of Matthew Corbett from The Sooty Show, or maybe even a weatherman as his badge suggests.
Behind the band, stills from the video of their forthcoming single 'Chestnut Sunday' appear as a slideshow. The colourfully animated video has bold, printmaking colours and patterns with images of typewriters, girls on bikes and in trees, a revolver, birds and of course, chestnuts.
James stands behind a lone snare drum that occasionally acts as a table for a set of colourful bells. From song to song he either taps a beat with his hands while shaking maracas or uses a stick, or even hits the snare with the maracas. A sampled booming bass noise appears, possibly triggered by the double bass players' foot.
They start with 'Pegasus' from the new album 'Of Flight & Fury'. The layered strings and violin pizzicato is a gentle introduction until James' voice cuts through sharp and clear. The lyrics intrigue with wry and occasionally dark humour, painting a picture for a significant and personal emotional event.
The second song 'Somerhill' is dedicated to the "Yummy Mummies of Brighton" (where they are based) followed by three more songs from the new album that they are eager to test on us tonight. A cover of an Iggy Pop tune 'Shades' provides an interesting twist with a vocal style much like Bowie. The song is from Iggy's rather camp 80's solo project and fits effortlessly well in the set. A stringed version of 'I Wanna Be Your Dog' may have thrown a spanner in the works.
James then requests a little audience participation. We're invited to make soft howling wind noises to introduce 'The Mouth Of The Wolf'. A few owls are added to enhance the atmosphere and unfortunately the owl gets a little carried away ruining the ambience. Instead of clapping at the end the audience howl like wolves… a rather creepy and uncomfortable moment.
Gladly, they do play a couple of tunes from their superb first album 'Twelve Ways To Count'. 'Monkey' is a bright, catchy tune, as is 'Pisshead' which is lovingly dedicated to Humble Soul label mate Aidan Smith. The inevitable encore brings the aforementioned 'Chestnut Sunday', after which James raises his wine glass to acknowledge the applause and in celebration of a "warm evening".
They finish by playing 'Hungover' with no PA and the singer standing in front the stage amongst the tables. The music sounds even more powerful unplugged, and James' voice sounds even more impressive. There's a little disappointment that they didn't play old favourites like 'Boat Song' or 'Button My Lip', which proves they are building an impressive and interesting catalogue of songs that make for a very civilised and entertaining evening. I leave with the choruses of 'Monkey' and 'Pisshead' as an ear worm.