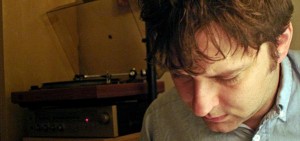 – THE DEAF INSTITUTE, MANCHESTER –
Male singer songwriter types playing solo with acoustic guitars are not my thing. The whole lonesome sensitive soul routine of acoustic indie rockers like Bon Iver et al just leaves me cold. On sight of another 20's / 30's male (and it generally always is males) with an acoustic guitar looking wearily into middle distance I instantly dismiss them.
Then I heard something loosely termed 'guitar soli' and was confused. This was music played generally by males, 20+, solo, on acoustic guitar – extended, intricate, instrumental pieces with unusual tunings and time signatures. This music really made me reassess my prejudices and I started to enjoy the sound of an unaccompanied acoustic guitar. There is a bit too much muso posturing on technique for me not to remain slightly wary of this genre, but when it's done properly, guitar soli can sound like little bursts or aural sunshine….
Ben Chasny or Six Organs of Admittance (a Buddhist term that refers to the five senses and the soul) plays solo with an acoustic guitar, but seems about as far away from either the singer-songwriter archetype or the muso boffin as it's possible to get. He falls very firmly in the 'done properly' category. Although he clearly has bundles of technique, he uses this for the greater good. By this I mean he is more concerned with creating stirring sounds rather than demonstrating his dexterity.
At the Deaf Institute tonight Chasny is supported by Fabrizio Modonese Palumbo in his guise as the band (r). Palumbo is not a man with an acoustic guitar. Alongside Daniele Pagliero on banks of effects and programmes (and, for one song, Andrew Liles of Current 93 on guitar) Palumbo plays electric guitar, violin, and sings in a deep, rich baritone.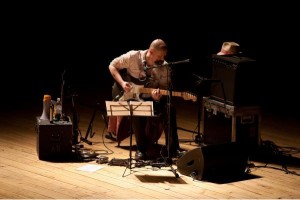 (r)'s music is pretty varied, moving from lush torch singer like ballads to the abrasive industrial noise of Skullflower. In-between we get elements of the slowcore of mid-period Low, Labradford type downbeat synthesised minimalism, and the static and frazzled electronica of Tim Hecker. It's a broad church in the world of (r) therefore, but all these elements work together pretty seamlessly over the course of the 45 minute set, and there are often several of these elements within one song.
Palumbo's voice adds a real sinister unnerving quality (it's low like Johnny Cash low) but it is used only sparingly as (r)'s music is primarily instrumental. The musicianship is hugely impressive as Palumbo draws both volcanic eruptions of sound from his guitar which envelop everything and delicate sustained notes which serve to underpin the electronic glitches and pulses. One particularly successful piece includes Palumbo's voice being relayed in real time, manipulated by effects, as instrumental sounds crash around it. It's almost Aphex Twin like in its ability to unsettle you through use of weirdly treated voice, really rather disturbing and demonic sounding.
For a 'support set' it's incredibly well realised and structured therefore and was enough for me to head to the merch table and purchase (r)'s latest album. Only had one spin so far, but I would already recommend picking up a copy of Drama Queen.
Minimal set up when it's just yourself and an acoustic guitar, so there is only a short gap between Palumbo and Ben Chasny taking the stage. As mentioned earlier, Chasny does not fit into any preconceived idea of one man and an acoustic guitar, not just because this is not all he is known for (see noise rock act Comets On Fire, freak folk super-collaboration Badgerlore, and the avant psychedelics of Rangda for just a few of his other projects), but because the music he makes is not of the self-obsessed bore-fests which a lot of his assumed contemporaries get lauded for.
What we get from Chasny tonight is a 'hits' set, as these are the most traditional song based compositions under his Six Organs alias. So from the off we are snared with a three part knockout opening of a pared down version of 'Shelter From The Ash', 'Bless Your Blood' and 'Words For Two'. These are Chasny's 'tunes', short, precise, simple, melodic, beautiful. This is made all the more obvious by the anecdote he tells of the couple who wrote informing him that 'Words For Two' would be used at their wedding (like all ill informed wedding songs, he hadn't the heart to tell them it was actually written for a film about suicide – but this was probably still more appropriate than all 24 minutes of mammoth drone masterpiece 'River of Transfiguration' for celebrating your nuptials).
Songs are drawn from across the Six Organs' back catalogue, but they all share the same characteristics of being on the shorter and snappier side of the canon. Even where there are ventures into the more drawn out instrumental pieces, these are generally abridged and pared down for this current live format. Treats of this variety include 'Drinking With Jack' (a tribute to another solo acoustic standout, the now sadly departed Jack Rose) and the closing 'Khidr and The Fountain'.
I really enjoy the fuller formed Six Organs, especially the fleshed out sounds of 2009's Luminous Night LP and Chasny's previous live shows which saw him play with a three piece band, but wasn't expecting that kind of thing tonight given that current LP Asleep On The Floodplain was home recorded, lo-fi, and completely solo. So we don't get the extended instrumental pieces like 'S/Word and Leviathan' or 'School Of The Flower' or anything of the classic RTZ album of long drones. But just because there aren't any of these elements to tonight's show it doesn't feel like there is anything lacking. This is because Chasny's solo guitar playing can go from understated and spare to sounding like there is about four of him on stage at the same time, it sounds rich and lush and fit to burst with finger-picked sounds.
So you can't begrudge where Chasny is at now, if the shorter more melodic pieces are what he currently wants to do then more power to him. I love this element of Six Organs, so this is no problem for me. If you prefer the other elements of Six Organs, knowing Chasny's prolificacy it's unlikely you will have to wait long for these to reappear.