– THE APOLLO THEATRE, MANCHESTER –
Just before Battles take the stage a friend of mine gets into a fight in the crowd.  Some over-priced cider is accidentally spilt over a punter which results in said punter taking issue.  Insults are exchanged, a tussle ensues where the cider spiller jumps on the back of the guy who's had cider spilt on him, rides him like a mule, before jumping over the barriers, fighting with some security and running off before being apprehended and let go by the police outside.  But I'm determined not to let this interfere with my full concentration on Battles, and in particular John Stanier, the greatest drummer since Animal from the Muppets.
Stanier first made a name for himself as drummer supremo with metallers Helmet.  Helmet for the uninitiated were one of the hardest, tightest bands the planet has ever seen.  Beavis and Butthead once commented on despite them being really heavy, they just look like regular dudes. Like Battles. This is a more pared down Battles than the one that I saw at the Academy a couple of years ago, but Stanier still leads multi-instrumentalist Ian Williams and guitarist/bassist Dave Konopka from the back, like a defensive general, his signature ride cymbal high in the air above the kit, pounding it out like some cybernetically enhanced humanoid.  He's mesmeric.  At one point, after Williams loops a sequence, Stanier crashes in on the off-beat, changing the whole tune.  In this way Battles' music is closer to techno than traditional rock music, and makes 'math rock' quite a good description of this machine-heavy, beat-driven set, which I suspect requires a mind somewhere on the autistic spectrum to play, such is the complexity of the time signatures. 
When Tyondai Braxton went solo it left a singer-shaped hole in the band which tonight they fill with the super-sub vocalists from their new album 'Gloss Drop', courtesy of two projector screens that have been wheeled on stage.  The collaborators, Matias Aguayo, Yamantaka Eye of The Boredoms, or Kazu Makino of Blonde Redhead may not be present, but their images are projected, singing onscreen, the vocals manipulated live by the band, creating a kind of android disconnect.  When Gary Numan's pallid visage appears, looking, as always, like a young Emperor Palpatine from Star Wars, for 'My Machines', it gets the biggest response from the crowd.  Battles are a raging, writhing post-rock collision of man and machine, but I sense that with the departure of Braxton, there was also the departure of something more emotional that simmered under the surface, leaving something a bit more coldly intellectual in the music.  But live they are an awesome beast of a band, bold and inventive, at the top of their game, spear-heading where music is going.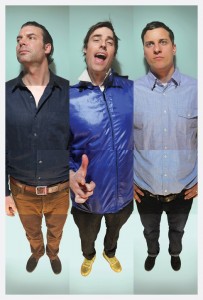 Between Battles and Caribou, Leeds UK funky boy wonder David Kennedy, aka Ramadanman, aka Pearson Sound, mans the ones and twos with a bag full of records of the type that you would expect from the Hessle Audio (one of dub-step's most influential labels) boss:  brooding chords and skippy, choppy beats on the housey side of dub-step.  Kennedy isn't exactly the obvious choice of DJ to connect the dots between Battles and Caribou but he does a good job of keeping the floor moving before the headliners.  As a set closer he bravely drops the tempo and plays Weeknd's 'What You Need'. 
Ramadanman is insisting on being called Pearson Sound these days, not because of death threats from fundamentalists but because the Pearson Sound guise represents a different musical style.  This isn't the case with Caribou's name change.  Like the Chemical Brothers, who originally recorded remixes for the likes of St Etienne under The Dust Brothers but were forced to change their name under threat of legal action by the US hip-hop group of the same name, Canadian David Victor Snaith changed his stage name from Manitoba to Caribou in 2004 under threat of a law suit by Richard 'Handsome Dick" Manitoba, frontman of The Dictators.  Snaith commented, "It's like the Smiths suing John Smith".
Caribou's set tonight is comprised largely of songs from the dance-influenced album Swim.  Snaith is joined onstage by three other musicians who regularly accompany him.  'Odessa' is the opener, establishing the model for the rest of the set, dance music with its constituent elements replaced by live instrumentation.  Half the audience are dancing; half are standing, beers in hand watching like they're at a gig.  It is a gig.  Or is it a rave?
Caribou and Battles are good representatives (if slightly more renowned) of the type of bookings favoured by Now Wave, bands and live performers influenced by dance music and DJ culture, which may have less to do with a conscious booking policy on the part of the promoters and more to do with the state of modern music over the last few years with the likes of DFA' output which harks back to the merging of disco and punk in early eighties New York or James Blake's re-invention as a singer-song writer.  By the climactic 'Sun', however, everyone left standing is going for it, the light show blazing, the band ending on a big extended percussive work-out lead by Snaith.
Though the Apollo tonight is by no means full, this first big venture for the Now Wave crew is a success.  And deservedly so.  The promoting game is notoriously dicey, and a broad church, with cynical, sharky, money-orientated types on one end of the spectrum and, music loving idealists on the other.  The best promoters are somewhere in the middle- a ph 5 say, where a devotion to music combines with a bit of can-do nous, ideally with a splash of originality.  When the Deaf Institute opened I was part of a bunch who had put on an ill-fated night that only lasted a few weeks.  Every aspect of the promotion was pretty slick, but it fell anyway. Then, on the top deck of the bus on the way to work one morning, I read about Now Wave starting up there.  The name was pretty good (referencing both 'new wave' and the early 80s anti-genre, 'no wave', a New York post-punk movement which aimed to try as much as possible to be free from all musical influence).  The manifesto- a devotion to all things new in music.  That's so simple, I thought.  That'll definitely work.  Bastards.  And for a few minutes, like Scalleri quietly seething at Mozart's genius, I wanted to spit and throw the MEN across the top deck.
But of course, to sustain the night requires more than just a good idea.  Whilst DJing at Trof in Fallowfield once I remember Wes Now Wave playing that whistley Peter Bjorn and Paul song at 45 instead of 33 which emphasised the break-beat making it sound a bit chipmunk drum n' bass.  John Peel used to deliberately play records at the wrong speed and it was heartening to hear someone do this mid-week in a student bar.
It's not just that Manchester has a massive student population; the population at large likes music and has always been both nurturing of local talent and interested in things coming in from the outside.  Now Wave has slotted in not just as a springboard night for lesser known bands on their way to playing the Academy, but as an auxiliary or even rival to SJM, as tonight's show at the Apollo proves.  As I wait for a taxi with the chorus of Odessa replaying in my head I see one of the promoters marching townward with a big 'we did it grin on his face'.  I can't help but smile.  Fair play.