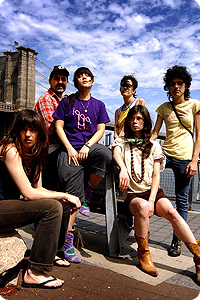 Three years since their last album, CSS are back with 'La Liberación'. Recorded in Sao Paulo and featuring contributions from Ratatat and Primal Scream's Bobby Gillespie, it's both a true melding of their debut's riotous anarchy and 'Donkey's grungey maturity. It also shows the band pulling off some most excellent sonic tricks and, as it turns out, pulling back from the brink that they found themselves in following their grueling touring schedule.
Adriano explains "We had been touring for years non-stop (and) we had some serious management issues." Returning to Sao Paulo allowed the band recuperate and take stock. "(We were in) a completely different state of mind. Rested, happy, well fed, satisfied, fit and looking good!"
Lovefoxxx adds: "Being in São Paulo helped a whole lot. I don't like being a foreigner for too long. I was in love with my life. Feeling energetic. I was feeling inspired and happy."
It was in this spirit that the band finally embraced their calling as flag wavers from an alternative generation.  'Ruby Eyes', 'Rhythm To The Rebels' and the album's title track all tackle the issue of being beautiful outsiders.
"Oh yeah, freedom is the most important thing in life," admits Adriano "People should liberate themselves. When we came to this title we got so high, it made perfect sense with the lyrics and the feeling we were getting. FUCK EVERYTHING. Let's get undressed and listen to CSS. Let's step out of the closet. Let's paint our teeth black."
"I think it's a celebration of our friendship," says Lovefoxxx. "I think that this album has also a "finding your gang" feeling, like the movie "Warriors."
For the singer, the album's centre-piece 'City Grrrl' was significantly autobiographical.  She explains: "I revisited my teenage years while living in the suburbs of my hometown. I'd be on the floor of my bedroom making the most ridiculous clothes and glue fake colored hair or x-ray pictures on clothes. I'd be sporting goth make up at 8am and when I hit the streets people would curse me from their cars in the most aggressive way.  (Calling me) 'dragqueen', 'whore'.
"I had a feeling that in a big city people were so busy that they wouldn't give a shit if they saw me walking around in my own creations. At the age of 16 I did move to the big city to live the dream. I got an internship with a designer and was finishing my school, and it's one of the things in life I feel the most proud of. I think many of our fans will relate to (the song)."
Equally, close to her heart is the break-up ballad, 'You Could Have It All'. "When I wrote these lyrics I was with everything I own packed in boxes waiting for the moving truck," she remembers. "This song is about a striptease of the soul, once you are deep in a relationship. When all you have you give into it you end up not having not too much left once it's over. It was one of the last lyrics I wrote for 'La Liberación.' "
The other side of the album shows the band who've matured way beyond their original sound. 'Echo Of Love' and 'Partners In Crime' both show wonderfully realised psychedelic/ acoustic influences, the latter features Mike Garson, who played piano on David Bowie's "Aladin Sane".
UK tour dates: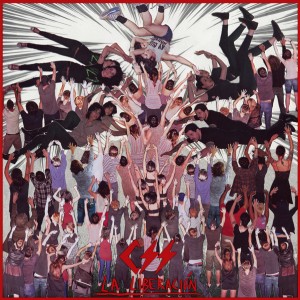 21/8 – Brighton Digital
22/8 – London Rough Trade East instore
23/8 – London XOYO
24/8 – Birmingham 02 Academy 2
29/8 – York Fibbers
30/8 – Manchester Club Academy
31/8 – Glasgow Stereo