Each week, one of our contributors will recommend an artist/band they think deserves to be brought to your attention. No record labels, PR companies, bands or bands management will ever have made these recommendations. It is simply one music fan putting their taste on the line in the hope of sharing good music. The questions are intended to give just a basic introduction to possibly your new favourite artist/band.
So without further ado, let's crack on with this week's introduction, in which Silent Radio's Ian Burke recommends Trapped In Kansas for your audible delectation.  
*******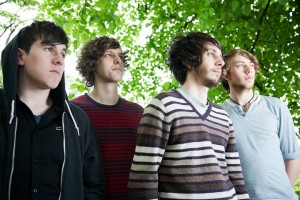 Who are ya? Christopher from Trapped in Kansas
Where are you from? Well we all met at uni in Ayr, Scotland, but we're from all different places really, though we all live in Glasgow right now. We're actually quite a multi-national bunch, Iain is from County Clare in Ireland, Finn was born in England but has spent quite a lot of time living in different countries, though he's settled in Glasgow now. Colin is from Clydebank just next to Glasgow and I'm from Glenrothes which is in Fife on the east of Scotland.
How long have you been doing what you're doing now? We have been together since June 2008 so we're heading for three years, which seems a lot longer than it feels!
Is being a musician your full time job? If not, what is? No, we all work hard to pay for being musicians, being in a band isn't cheap. Colin and I actually work at a whisky distillery near Glasgow, Iain just left uni and is working away full time at the moment and Finn is still finishing off his degree. So being in the band, it can be quite hard sometimes to get a set time when we're all off together to work on our music, we've reverted to being night owls of sorts and tend to find we're in the practice space until the early hours of the mornings as that seems to be the only time we can get together.
How would you explain your sound to someone's 90 year old grandmother? We play a very technical variation on rock music, so we have really loud and distorted parts to our music but we also focus on having intricate and melodic parts as well, our music is often called math-rock because it features very odd time signatures. So it can swing from harmonic and tappy to being loud and heavy and mostly, it doesn't tend to follow the 4/4 standard timing.
Are there any obvious influences in your music? There are quite a few bands we take some influence from This Town Needs Guns, American Football, Map & Atlases, Tera Melos, Manchester Orchestra, Brand New, Mimas, Mogwai.
Are there any not so obvious influences in your music? I'd say in terms of the influence of our sound the above bands really help to fuel the our creative side for our music but in terms of the bands' taste in music, it's massive. We like all sorts of things really; every member of the band has our own wee secret side. One night we all downloaded a guilty pleasure onto my iPod and things like Lady Gaga, Tinie Tempah, Chiddy Bang came up, so I'd say we have a very diverse taste in our music.
Apart from yourself of course, what other band/artist would you recommend our readers check out? Well there are quite a few bands we could pick from, Pensioner, The Darien Venture, Let's Buy Happiness and Esperi I'd say, they are all making very lovely music and you need to check them out!
Best place for people to find out what you are up to? Add us on Facebook and Twitter (trappedinkansas) or you can find our website at www.trappedinkansas.com and join the mailing list there!
Anything to declare? Our single 'I Was Born' is out now and it's only £1, you can download it from www.overlookrecords.com! Check out our video for it at and of course, thanks for having us!