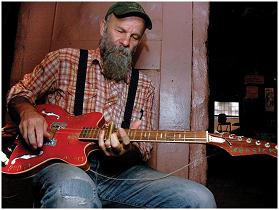 When I first saw new pictures of Seasick Steve in Elton-esque shades I did wonder if the once homeless blues player had got a bit big for his denim dungarees. But after a listen to his latest single, I realised that the OTT appearance was more than well deserved.
 If his last album was a small portion of fries, his new single 'Can't Teach An Old Dog New Tricks' is a full blown happy meal with the additional free toy.  The sound is grander and more tweaked than his last offering two years ago, with less raw vocals over a John Lee Hooker worthy riff.  The lyrics are in keeping with his simplistic name, no-nonsense and to the point, sung perfectly with his renowned gravelly voice.
Former Led Zep bassist  John Paul Jones steps in to blast out the expert bassline on the roaring, rousing and at times, foot stomping track.
Once again he proves that nobody can wrestle a riff out of a guitar made from an old Morris Minor quite like him.