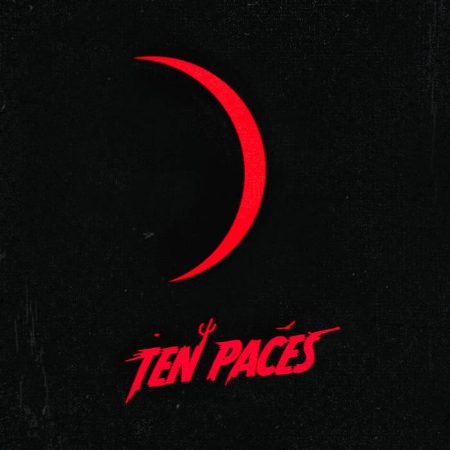 If two brothers from Scunthorpe were to create a Western starring Johnny Cash and Roy Orbison, 'Ten Paces' could be the outcome. Henry Stansall set out covering the Man in Black's songs in pound a pint English joints before upping sticks with sibling, Rupert, and relocating to the States where their 2018 debut, 'All My Shades of Blue', was produced by Rick Rubin. When the pandemic stymied their gigging, they turned to soundtrack work, compiling songs for the award-winning Netflix romcom 'The Half of It' and producing the full score for the indie feature 'Going Nowhere'. Whereas the Rubin produced album had a monochromatically retro vibe, the craft they have learned seeps all over 'Ten Paces' giving it a widescreen sensibility.
The mood is set on the opening 'Slow Draw' with gunshots in the distance, triggers being cocked and ricocheting sounds accompanying the drawling guitars in a song of departure and dying love. It introduces Henry's four octave voice, equally adept with rich lower notes and higher emotional crescendos, an effect enhanced by using over 100 vocal takes to layer up the voices. 'The Fear' has its lead character anxious to avoid the frantic world wanting to just stay comfy in bed while guitar twangs and chops, insistent programmed drums beat out a work rhythm. 'Hi Yo' plays with the trope of the mysterious stranger, toiling strenuously by day digging for gold but by night "Go down a level / Go meet the devil".
Brother Rupert is the instrumental maestro and set out to preserve the quality and authenticity of original recording equipment while crafting a modern sound. As the album fully hits its stride with a trio of songs, this skill comes to the fore. 'Don't Know What's Come Over You' starts with the piano and orchestration already hinting at an over-wrought ballad before frantic repetitive drums and synth flourishes go gloriously over the top, with echoes of Phil Spector and Jim Steinman in its production. The drama brings out the full quality of Henry's voice. 'Bullet Blues' has a 'Running Scared' aura in its deliberate pacing, the bullets are purely metaphorical as the song ruminates on fixing a broken relationship and drawing comparisons with a duel. 'Silver to Gold' brings an element of Ennio Morricone soundtracking a spaghetti western as the protagonist takes his first coffee of the day before exploding into an infectiously technicolour chorus.
A snippet from 'The Good Surely Die' gives the album its title ("I took ten paces from you / This is the part / Where the good surely die"). Its slower pace offers space for another heart stopping vocal performance. 'Free As The Birds' conjures wide-open spaces with ominous drums while the protagonist dreams of turning back time and making "life as sweet as apple pie". The song ends with a magnificently abrupt guitar twang.
Appropriately, 'Sleep' is the most restrained tune with a world-weary turn, briefly rousing itself with some dramatic orchestration. 'Ten Paces' concludes with the disappointingly underpowered 'Long Road' as the protagonist heads home alone.
When an act so clearly references iconic figures, they set themselves a virtually impossible task in drawing comparison to legendary songs that have benefitted from decades of repetition to work their charms and seep under the skin. However, with 'Ten Paces' Ruen Brothers have produced an album that is appealing in its own right, full of songs and vocal performances to cherish. 
Ruen Brothers: Ten Paces – Out 2nd June (Yep Roc Records)