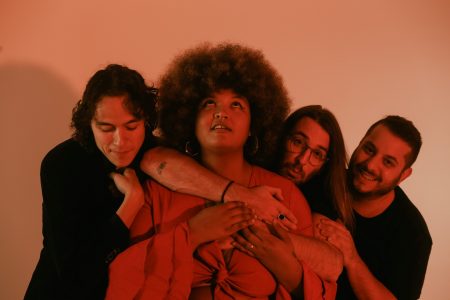 The second album from New York City funk-soul band Dakota Jones sees them setting off into space. Cosmic journeys can be an excuse for lengthy, indulgent soloing, tracks stretching on for a duration that feels as long as a journey into space but fortunately 'Heartbreakers Space Club' does not fall into this trap. All ten songs are concise and keen to maximise the value of each minute. The album was inspired by listening during the production process to a mix of David Bowie's 'Ziggy Stardust', D'Angelo's discography and the early works of Prince. It was produced by the band's bassist and multi-instrumentalist, Scott Jet Kramp, and is littered with futuristic flourishes and retro echoes.
'Heartbreakers Space Club' kicks off with 'Moon Song', a song of two parts, the first consisting of grinding guitars, icily triumphant keys and Tristan Carter-Jones' rap, before the rhythm section drops out and a spoken voice piece with twinkly instrumentation and a philosophical bent takes over ("I am familiar with the pain, the sacrifices the uphill gain / Like Sisyphus in the rain").
Although the album maintains the occasional space reference, this is primarily metaphorical as its main themes are the more earthbound sex, love and relationships with Jones exploring the boundaries of being a strong, queer, black woman. 'Misbehave Me' exemplifies this with its slinky funk groove, a song of healthy sexual surrender and celebration of self-exploration.
'Downtown' is most definitely not a cover of the old Petula Clark hit being way too potty-mouthed for that with the f bomb being dropped twice in the opening two lines. A radio edit would be a necessity for a tune that otherwise screams "Release me as a single" with its great soulful vibe, synth squiggles and sense of unease ("I'm not scared I'm just a little bit apprehensive").
'Call It Off' branches off in a slower tempo with Jones' voice sounding especially rich amidst the keyboard wash and Kramp's bass groove. In contrast, 'Sugar Pie' is a celebratory love song which sees her rejoicing in "Soul food to my mind", her vocal dancing along with a resonantly deep organ and funky bass line.
'Feel Something' has a relaxed vibe, sax solo and Jones' soaring voice while 'Dissent'n'Gin', a toxic mixer, is one of the album's finest tracks, words racing from Jones in a nod to 1990s hip hop as jazzy keys ease her along before a scratching interlude. 'Break It Down' reduces the pace in compliance as she commands "slow slow slow now" while offering "middle finger to the law" in a particularly soulful excursion. 
To floor-rattling bass and sizzling synths, 'Scared' explores lack of trust in a relationship with Jones spitting rhymes before hitting some impressively high notes. The journey concludes with the shiny keyboard melody of 'Countdown', Jones counting back down from 6 but no closer to definitive answers ("We all playin' but don't know the name / We all angry don't know who to blame / We all naked but feel so ashamed").
'Heartbreakers Space Club' is an impressive showcase for a charismatic vocal presence and a band perfectly attuned for the voyage.
Dakota Jones: Heartbreakers Space Club – Out 2nd June 2023 (Autonomy)