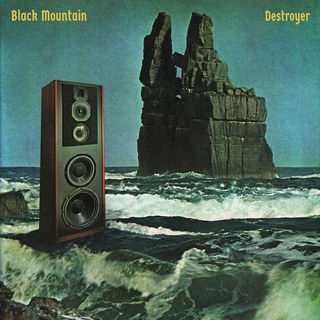 Learning to drive is never easy at any age, so fair play to Black Mountain's frontman Stephen McBean, who's passed aged 47. Proving it's never too late to learn, the freedom of the open road and the first adrenalin rush of being behind the wheel have fed into the album. The album is apparently named after the 1985 Dodge Destroyer car, since as well as crafting this album, McBean has been attempting to build one in his stepdad's garage. It's not the only thing that's changed in McBean's world, the Black Mountain line-up has changed significantly since the last one, with Amber Webber and Joshua Wells departing, however this time around he's joined by musicians who have been members of Flaming Lips, Oneida, St Vincent's band, Sleepy Sun and more, who all manage to keep the Black Mountain sound intact.
Album opener 'Future Shade' has dense guitar riffs which jostle for the lead role, with McBean's vocals joined by those of fellow vocalist Rachel Fannan, it's a tune that encapsulates the feel of driving along the highways with the music blasting out, whereas 'Horns Arising' has vocoder affected vocal lines over steadily paced keyboards which ascend skywards and riffs which chug along beautifully underneath. It's as if that much maligned genre of prog, has been given a kick up the arse, and sprinkled with Black Mountain's psych magic. Yes, although the lyrics sort of deal in distant imaginary worlds "Forever fire, a swarm of flying embers, down corridors, we heard the fainting choir", the whole tune is such a huge sounding beast, it complements the abstract lyrical themes perfectly. 'Closer To The Edge' starts off with electronica and McBean repeating the mantra "Close, we're living close, close to the edge" throughout, creating a hypnotic Kraftwerk style vibe, before the more psych induced keyboard sounds charge in, then it's back to full-on riffs for 'High Rise' with its stomping backbone of rolling drums and the vocals of McBean and Fannan joining forces for harmonies before a mind melting guitar solo kicks in. It seems to be about some dystopian high rise future "thrusting cement into heaven, penetrating the clouds, staring us down, thinking you're all that the world spins around".
'Pretty Little Lazies' is a right mood swinger, going from a from a string laden, gentle Pink Floyd meets Radiohead melodic opening, before those heavy prog induced riffs kick in, and the whole thing sounds like it's joyously hurtling down a hill without the brakes, before ending with the sweet refrains it started with. It's proof that McBean and co, always manage to weave a melodic line through the densely heavy riffs, which is one of the reasons this lot are so good at what they do.  'Boogie Lover' has a menacing deep bassline and over six minutes of melodic infused choruses and monster sized riffs, whereas my take on 'FD'72' is that it's a synth driven homage to listening to Bowie whilst driving around town as McBean sings "Below, how we all adored, the man who fell to earth, selflessly unchained, onto the next show".
Black Mountain's fourth album is more than the sum of its heavy rock ingredients –   it's infused with a liberating sense of freedom and is punk meets metal meets psych meets synthwave all in one tasty package.
Black Mountain: Destroyer – Out Now (Jagjaguwar Records)