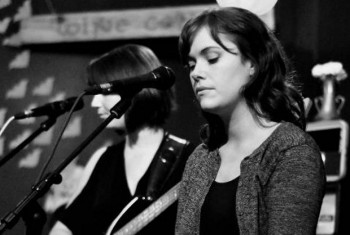 – ST.CLEMENT'S CHURCH, MANCHESTER –
It's such a beautiful, warm evening (I don't even need a jacket, hooray!) and I'm stood in the grounds of St Clements church surrounded by trees and greenery forgetting that I'm in a city.  I'm here on the recommendation of a friend and considering the facts: a husband and wife 'family' band, who have come from Southern US (Albuquerque), the husband from Texas originally, playing in a church, I'm kind of expecting a slightly 'wholesome' affair.
However on entering the church hall we buy wine and beer (although we can't take it inside the church) and when peering round the door I'm struck by the strange mix of not ordinarily compatible elements.  I find a typical stone style church with the vaulted ceiling and a beautiful stained glass window featuring biblical looking pictures; all the colours beautifully illuminated and accentuated by the light pouring in from outside.  Underneath the window is a row of multi coloured flashing rave style lights.  There are no pews, which is just as well as tickets sold out well before the gig and the actual church is pretty small.
The crowd also seem an unusual mix.  There are the older crowd as my terrible stereotyping would have led me to expect, there are also a fair number of people with brightly coloured hair and there are a 20 something's rather trendy looking crowd, suggesting that the band appeal to a range of people.
We're sat drinking wine in the hall when we're suddenly plunged into darkness, we take this as our cue to head churchwards for the start of the music.  On stage are TINY RUINS two New Zealand based girls who charm me with their guitar, double bass and beautiful voices.  Such a gentle, soothing sound and the bass strokes you through the floor which we're sat on.  Special effects are just not needed with this delicate country, folk style music.  The voice has such a depth and clarity and I'm totally absorbed; in one of those nice comfortable hazes (maybe aided by the heat and the wine), and everyone around me is completely silent so I assume the effect is universal.  I'm sad when they finish.  Definitely recommended, my description can't do it justice; take a listen!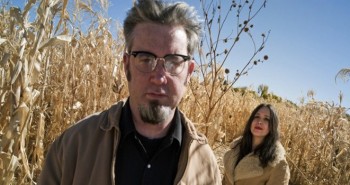 HANDSOME FAMILY begin their set talking about 'jumping bridges' which seems like a strange choice for introductory conversation until they start their first song 'Weightless Again' which from what I can gather is about trying to get back to that good feeling in life, overdosing on pills and jumping off the golden gate bridge to feel weightless again.  The music has a country/bluegrass feel to it with a steady beat and a tambourine on the drum set for that extra kick but has a darkness to it.
 Rennie Sparks (who writes the lyrics) looks like she's warmed by every guitar stroke and Brett Sparks has a great, deep, baritone voice with a good range complimented by Rennie's feminine backing vocals which in some songs have that 50's rock, chewing out the side of mouth, kind of style to them.   In between songs they tell intriguing stories with good humour and affection, bouncing off one another and with a certain ease that shows they are comfortable on the stage with a gentle confidence.  These stories are like folk tales about people and things which have obviously moved them.   Among these are a lady repeatedly hit by lightning (32 times and twice in her bed if I remember correctly), bottomless holes in yards (apparently this happens a lot in America), unappreciated Christmas gifts, octopuses, and Mary the window-breaker (a personal hero).  My friend Steve asks whether this is what Roald Dahl might be like if he lived in the woods somewhere in America and did story songs rather than story books.
They do have a nice, family quality to them with their married-couple-esque discourse.  At one point Brett stops proceedings by claiming that Rennie's banjo is 'outside the acceptable parameters of tuning' to which she retorts that it's a desert banjo that doesn't know how to cope with the humidity.  They are funny and it's all very endearing and makes you feel like you have a window into their lives.
At the close, the crowd stamp and clap in demand for an encore and they're back for two more songs with Brett muttering about God striking him down and Rennie asking what he'd like to play that what would make him happy.  They sing a song about cathedrals and a song about a puddle which apparently is the most romantic body of water.  Their website suggests they are a family of many creative talents with paintings, film appearances and people covering their songs.  Their gentle, witty, charismatic nature makes them the kind of band you'd really like to go have drinks with although as much as I enjoyed the show it was good to get out of the muggy church; had we had eggs with us I'm sure they would have been at least part boiled in there.