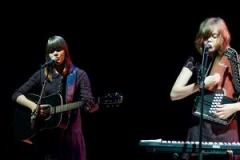 First Aid Kit, the Swedish duo of sisters Klara and Johanna Söderberg, are currently recording with producer Mike Mogis at his A.R.C. Studios in Omaha, NE. They'll spend the next month working on the follow-up to their debut album, The Big Black & The Blue, released last year on Wichita Recordings. In addition to being known as a member of Bright Eyes and Monsters Of Folk, Mogis is a producer who has worked with artists including The Concretes, Cursive, Lightspeed Champion, Rilo Kiley, Sea Wolf, and Pete Yorn, among many others.
"We met Mike at Austin City Limits last year. He saw our show there and we got talking about recording an album together," said Klara and Johanna.  "Bright Eyes was the band that got us inspired to start making music, so working with Mike is quite surreal for us. We feel honored. So far things are going really well and we believe we're in the process of creating something very special. This truly is a dream come true."
First Aid Kit broke out last year with the release of The Big Black & The Blue, garnering praise from AOL Music's Spinner blog, NPR's All Songs Considered, Nylon, and SPIN ('Breaking Out' artist), among others, and earning spots on HearYa, Nylon, and PasteMagazine.com's 'Best of 2010' lists.  The year proved to be one of 'firsts' for the young band, who were only 17 (Klara) and 19-years old (Johanna) at the time of the album's release. 
March 2010 saw First Aid Kit perform in the US for the first time at SXSW, which they followed with their first stateside headlining tour in June that included a sold-out stop at New York's Mercury Lounge. In September, they toured Australia and released a 7-inch single for 'Ghost Town' which featured a spectral cover of Fever Ray's 'When I Grow Up' as a B-side in tribute to mentor Karin Dreijer Andersson (Fever Ray, The Knife), whose label Rabid released their debut EP Drunken Trees in 2008.  First Aid Kit returned to tour the US again in October, with stops at the Austin City Limits festival and the CMJ Music Marathon. 
The band rang in 2011 with the January release of a Third Man Records Blue Series 7-inch that featured covers of Buffy Sainte-Marie's 'Universal Soldier' (made famous in 1965 by Donovan) and the blues standard 'It Hurts Me Too', recorded with Jack White at his own Third Man Studios in Nashville, TN.
–
Edited by Joe Crouch