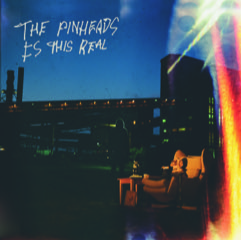 I hadn't heard of The Pinheads before I picked up their latest release – 'Is This Real' – ahead of its first outing on the 24 May, but the promises made set a happy scene… "Born out of friendship, bowling, sci-fi movie marathons and literal brotherhood, Australian six piece garage rockers The Pinheads formed out of what is now colloquially known as the Leisure Coast."
The group are touring their homeland as we speak and they're coming to the UK in June, bringing their highly anticipated second album with them.
First listen of 'Is This Real' and reviews for their earlier work still ring true. "Apathetic fun" is used by some and it's an accurate description of the laid back nature of this band. It feels like the music plays them, rather than the other way around, taking them on a journey through an almost Brit-Pop/original 70's rock & roll mash up with definite Pulp vibes thrown in for good measure.
As you can imagine, this was pretty unexpected from a young looking band from across the world. And there's not a sniff of an Aussie accent either.
So, jumping in we're treated to 12 tracks of push and pull through this freestyle and flexibility.
Opening track, 'Pure Hate', sounds like the opening track to a "This Is England" type Channel 4 drama. The sound builds during eight minutes of deliberate and powerful riffs, and strong but slow vocals. The album moves through some beautiful guitar harmonies in 'Innocent Crime' and a depressing yet cheery tone in 'So Alone' (despite some almost pitchy vocals, got to be said) arriving at the two main highlights for me…
'On & On' is a triumph from the beginning – within a few seconds of the repetitive, chirpy track I'm noting down the name to make sure I can give it a mention. It's got a solid base, some fantastic layers in sound and the simple vocals power it along. Tasty.
The title track following contains the first set of lyrics that I really listen to and connect with, which I need at this point in the album. There's also an absolutely fabulous harmonica solo and I am HERE.FOR.IT. It genuinely brings me great joy.
All in all, it would probably benefit from a bit of polish but the horizontal manner with which these guys and gals are clearly accustomed to rubs off quickly and I'm left singing along.
Give them a gander if you're in need of a Jarvis Cocker, light and breezy half hour.
The Pinheads: Is This Real – Out 24th May 2019 (Stolen Body Records)