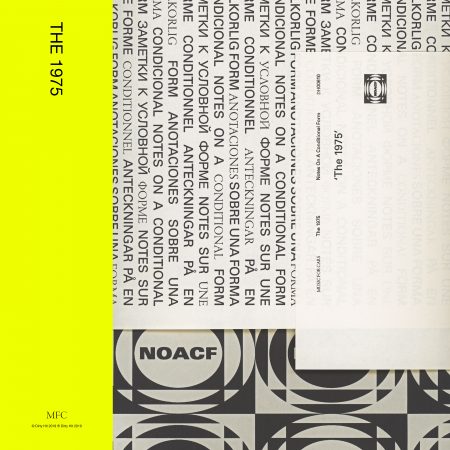 The new album from The 1975 is finally here, after numerous delays it launches during the strange days we currently inhabit and provides another solid album, but not the magnum opus some were building this up to be. Their last full-length album was critically acclaimed by the majority of the press and went straight to number one.
The opening track features a speech from Greta Thunberg on the impending climate catastrophe, which is a welcome change to the usual ambient openings with the same lyrics which inhabited the first three albums.  'People' is still as shocking as when first released, the punk banger has prescient lyrics for the times we live in currently and is one of the most shocking things the lads from Wilmslow have pulled out the bag. We then have 'The End (Music For Cars)', which is a beautiful orchestral arrangement and feels like Hans Zimmer scored it.
The next track 'Frail State of Mind' is an erratic garage track with equally prescient lyrics as 'People', "Go outside, seems unlikely, I'm sorry I missed your call, I watched it ring". Meanwhile, 'Streaming' seems like a pointless interlude into a middling track titled 'The Birthday Party', which is where he moans about trying to stay sober while at a boring birthday party.
We go from the fantastically sweet 'Then Because She Goes' to low key tracks like 'Jesus Christ 2005 God Bless America', even encompassing country-rock with 'Roadkill', where Healy sings "Well I pissed myself on a Texan Intersection and George spilled all over his bag".
We also get 'Me And You Together Song', a sugary sweet track that has more than a hint of shoegaze about it, then the biggest shock of the album a gospel-rap track titled 'Nothing Revealed/Everything Denied', which just shows how brilliant The 1975 can be when they explore different genres. This is followed by 'Tonight (I Wish I Was Your Boy)', a song that reminds me of 'Sincerity Is Scary' from the previous album and is all about accepting that a relationship has failed, we then get one of the album highpoints 'If You're Too Shy (Let Me Know)' which is a pure '80s tinged bop.
There are obvious problems with the album though as it contains what feels like filler, the hat trick of songs in question are 'Having No Head', 'What Should I Say' and 'Bagsy Not In Net'. To close the album we get the emotional piano ballad 'Don't Worry', featuring Matty Healy's dad Tim Healy and the song 'Guys', which is a sweet tribute to Healy's fellow bandmates.
This album is like a tub of Celebrations with great songs such as 'If You're Too Shy', 'People', 'Nothing Revealed/Everything Denied', which are equivalent to Milky Way or Maltesers (top-tier Celebrations) and other tracks such as 'Shiny Collarbone', 'What Should I Say', 'Streaming', 'Bagsy Not In Net', 'Having No Head' and 'Yeah I Know' are the equivalent of Bounty (P.S. sorry if you like Bounty, but also not sorry at the same time).
With the tracks as eclectic as ever, Healy's wonderful songwriting shines through. Unfortunately, there are a handful of tracks that disrupt the album and dampen the excellent tracks that have come before. The disruption comes from mainly instrumental tracks with sporadic vocals from Healy that overstay their welcome and don't hit any sort of emotional note.
While not as good as their previous two efforts I am intrigued to see what The 1975 do after this, next time they need to trim the fat off of the overall record for a better experience.
The 1975: Notes On A Conditional Form – Out 22 May 2020 (Dirty Hit / Polydor Records)