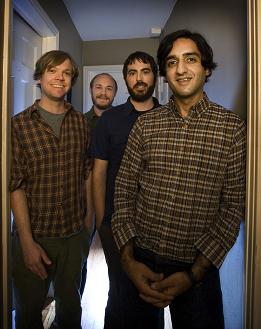 – THE ACADEMY, MANCHESTER –
Explosions In The Sky produce a sound that feels paradoxical in the sense that it is intimate and yet epic. They are playing to near full capacity in Academy 1 and I wonder how the venue might detract from the musical experience but rush through and forget your not in the Barn (Academy 1); at least that's what the man next to me is thinking and he's got all types of excitement going on, and the music fills the space well.
Explosions In The Sky, are, as they used to say: my cup of tea – if this cup of tea is whisky, with more whisky. They play like they sound – like their socks haven't been washed because music doesn't sleep, they come on stage and perform what could be dubbed as 'the bedroom sessions'. From the off we're instantly sent into a trance, as they seamlessly pass from one piece to another. Audibly this is such an incredible cinematic experience that the back-drop of the gig is ripped away and it's up for grabs what's happening behind, I think the guy next to me can see the band: naked, without the instruments, thrashing around sweatily.
The group's performance is impeccable and although they lack any sort of audience interaction they rise and fall with energy that shakes your demons and skeletons free. It's cathartic. It's musical masturbation. I'm having epiphanies left, right and out of my centre. The music they create should be seen in a similar light to contemporary classical music being performed by a rock group set-up: guitars, bass, and drums; With their pieces over six to eight minutes each, it gives them the freedom to build and create really evocative music.
They're currently on-tour promoting their new album; 'Take care, Take care, Take care' which has been four years in the making, it flows a lot more gracefully with crescendos that don't break as heavily as in their previous albums but it's not dry and breeds a hunger for more music.
Over the summer they will be making a reappearance in the UK as they are set to headline the Green Man Festival. Their new album is available to download or in the physical and their in-house artist Esteban Rey has constructed a 3D pop-up record cover.