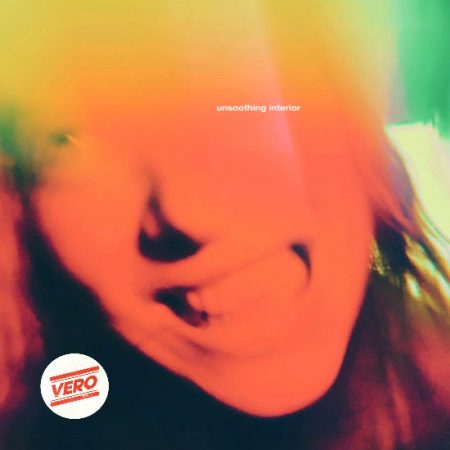 When you hear that the album you'll be listening to is called 'Unsoothing Interior,' it's safe to say don't expect an atmosphere akin to a chamomile tea and a sit-down. Vero has very different ideas on their debut project, which has a lot to say about the chaotic nature of their twenties and evokes the spirit of classic Pixies, Sonic Youth and Garbage records.
Meet Vero, a three-piece from Stockholm carrying bags of talent with them. Formed of Julia Boman (lead singer/bassist), Clara Gyökeres (guitar), and Amanda Eddestål (guitar), the band met after Boman and Gyökeres decided to start a club night, which then shifted into then playing music together. After changing their sound to guitars and drums on their 2020 EP entitled Heaven on Earth, the band went from strength to strength – now comes their debut album Unsoothing Interior.
The record starts strong with Cupid, a track with driving guitars and distortion that help elevate the moody vocals by lead singer and bassist Julia Boman. Sticky is a track that starts in the light and moves increasingly slowly into something darker, taken from the individual members experiences on a night out. Songs like Sticky prove that the band are storytellers, with gradual tonal shifts and perspectives along the track. Sex, Me, and TV shows have swirling guitars that pair well with lyrics that involve imagining being a good person while actually just laying around watching Netflix. Self- reflective lyrics like "I could watch days go by/ It might be pointless/ I don't mind if/ I Could be anything" show this band as truthful and relatable.
Another highlight is the fun Beluga. The lyrics here include "I wanna talk to you/ give me a twirl/ You smell like a bowl of fruit/out of this world," which are knowingly corny and the more delightful for it – mainly because it hides a message about trying to find happiness within lust and luxury. The rest of the album contains impressive lyricism – but doesn't hit the heights of tracks like Beluga. Songs like She's Scared of Everything and Exit 2 have memorable lyricism – but the production feels like it's rinsing and repeating some of the earlier songs on the record. For an album that deals with multiple emotions, moods, and experiences, I would have liked the production to have matched that. However, those are only a few negatives within a sea of positives.
The group have proved their talent on this impressive debut, and all eyes will be on what they do next.
They always say that you shouldn't judge a book by its cover and have zero expectations beforehand. After listening to Unsoothing Interior, the band went from zero to Vero (apologies for the bad joke).