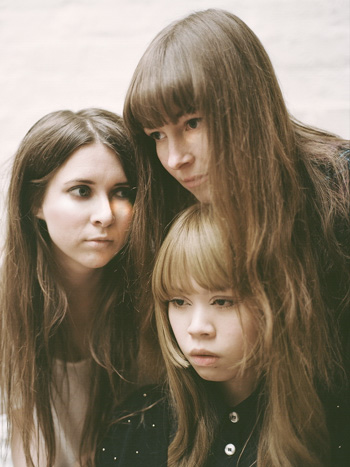 After an incredibly busy 2011 in which London's Novella released their first single on Dirty Bingo Records, toured with the Dum Dum Girls and were part of a split record with Gross Magic, Echo Lake and The History of Apple Pie, 2012 is already proving to be another big year.
On May 28th, they release their eponymously titled debut EP through Italian Beach Babes (Mazes, Dirty Beaches, Fear of Men). Recorded by Rory Attwell on his Thames-dwelling Lightship95 boat studio, the EP sees the girls demonstrate just how far they've come in this short space of time. It's a fusion of the luscious psychedelic stylings and "ferocious riffage" (FACT magazine), demonstrating the intensity that their growing fan base has come to expect and flying a flag for exciting things to come.
Described by NME as "London's most ubiquitous band", in 2012 Novella have already played with likes of Friends, 2:54, Fanzine, Veronica Falls and Gauntlet Hair – their hypnotic live shows are fast becoming a must-see. They recently played Camden Crawl and The Great Escape in Brighton.
"After releasing our first single in August, we really wanted our next release to be a collection of songs that reflected our different influences and sounds" they explain. "We spent a lot of time thinking about which songs should be on the EP and how they would fit together. Our aim was for the EP to reflect our progression in our song writing, and we took more time thinking about the recording process than we ever had before, experimenting with different guitar sounds and vocal harmonies."
Novella EP tracklisting:
1) Eat Yourself
2) He's My Morning
3) Don't Believe Ayn Rand
4) Strange Things
5) You're Not That Cool