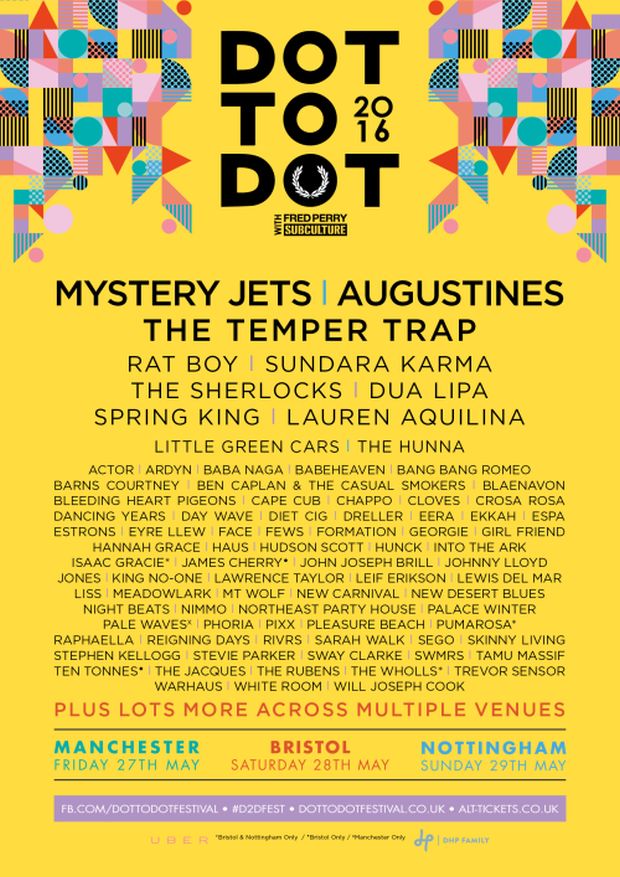 Dot To Dot Festival is established as the UK's Premier Festival for unearthing and showcasing the hottest new talent around, alongside established acts from across the globe. 2016 marks the Festival's 11th edition and will see it returning to Manchester, Bristol and Nottingham from the 27-29th May. Dot To Dot's ever eclectic line-up is set to make this year one of the biggest and best in the festival's history.
Among the fourth additions to the line-up are accomplished 22 year old soulful singer songwriter LAURENCE TAYLOR, London based electronic pop artist JONES, intimate newcomers CAPE CUB, ambient electronic 6-piece PHORIA and experimental US psych band NIGHT BEATS.
The fourth wave announcement also includes: ACTOR, BANG BANG ROMEO, ESPA, HUNCK, ISAAC GRACIE, JOHNNY LLOYD, KING NO-ONE, LEIF ERIKSON, PIXX, PUMAROSA, TEN TONNES, THE RUBENS, THE WHOLLS, and WARHAUS.
Dot to Dot also added a huge list of fantastic local talent to our line-up this month and unveiled our expanded list of music venues and creative spaces for this year's festival. Highlights of this announcement include Mancunians DELAMERE and PALE WAVES; Bristol locals FENNE LILLY, VAN ZELLER and ROZELLE as well as EYRE LLEW, GEORGIE and SAME STREETS from Nottingham. The extensive combination of international, national and local talent has allowed Dot to Dot Festival to expand to 66 stages over our three cities in 2016.
All these performers will be joining the previously announced artists already making up the bill, these include the anthemic MYSTERY JETS, New York rockers AUGUSTINES, Australian indie giants THE TEMPER TRAP, breaking pop newcomer DUA LIPA, beautifully honest balladist LAUREN AQUILINA, euphoric guitar rock supremoes SUNDARA KARMA and the Dot to Dot debut of NME Awards Best New Artist, RAT BOY.
Previous Dot to Dot line-ups have seen performances from The xx, Ed Sheeran, Mumford and Sons, The 1975, London Grammar, Jake Bugg, SBTKRT, James Bay, The Cribs, Peace and many, many more. Make sure you keep checking www.dottodotfestival.co.uk for all the latest news and ticket info. Also subscribe to our Facebook, Twitter and Instagram to keep yourself in the loop for all things Dot To Dot. Tickets are priced at £25 and available now through www.alt-tickets.co.uk