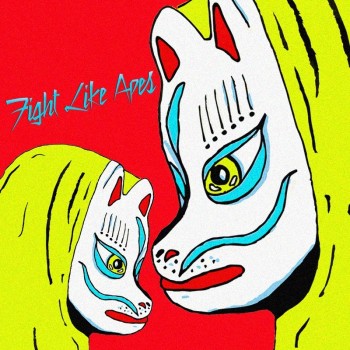 Last year Fight Like Apes delivered one of the best pop songs of 2014. 'Crouching Bees' saw the Dublin-based outfit smarten up their thrashy electro-pop sound with plush production, ice cool synths and the ever sharp vocal work of front lady Mary Kate. It seemed like after nearly 10 years of being a band, Fight Like Apes were ready to break into the big time, and all eyes have been on them to produce the album to make that happen.
I often find that when a band decides to self-title an album that isn't their début, it is something of a statement of intent. These are albums that bands see as a true representation of what they do. Fight Like Apes justifies this idea. Although they've always been a band to let the synths come forward, this is their most electronic sounding record to date, with no live drums and a very retro, 80s synth pop feel throughout.
From the off, it's all vintage synth lines and strong hooks, with opening track 'I Am Not A Merryman' coming at you with a gang vocal hook tailor-made to get wedged in your head. It's very much business as usual with lots of simple but infectious pop melodies packed into each track, but with a focus on being even more catchy. Mary Kate's husky vocals are strong throughout and bring out some really great choruses. In fact there's too many to mention, but tracks 'Pretty Keen On Centerfolds' and 'I Don't Want To Have To Mate With You' are pretty big hitters on here with sprightly 808 beats and big, buzzing synth work.
There's always been a playfulness to Fight Like Apes that I enjoy with their energetic live shows, and they always seem like band on a mission to make you smile. The playfulness of FLA shines through on the record, from the bubble-gum pop of 'Pop Itch' to the amusing duet on 'Didya' as keyboardist Jamie passionately yelps alongside Mary Kate as they ask, "Did ya wanna take me home?".
Fight Like Apes is another master class in not taking yourself too seriously but still having something to prove. It may be quite fun, playful pop music, but the melodies are well thought out and undoubtedly infectious, and the vocals are still full of conviction and soul. Only time will tell if this is the record that makes them the household name they've been threatening to become, but with an army of die-hard fans ready to help spread the word, I think that more ears are likely to be wrapped around this record in the promise of being bathed in a pool of sumptuous pop hits.
Release Date 18/05/2015 (Alcopop)
Fight Like Apes Official | Facebook | Twitter | Soundcloud