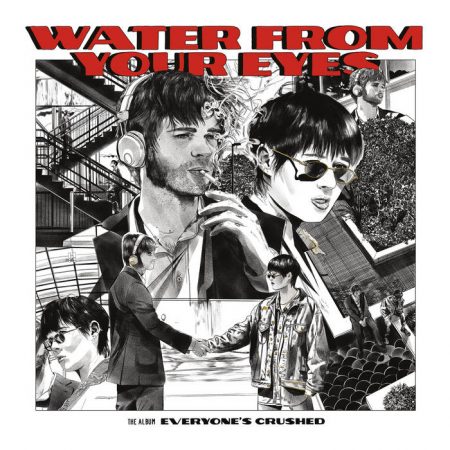 After listening to music for decades, every possible combination of notes and sounds ought to have been exhausted. It is increasingly difficult to hear anything that sounds ear-grabbingly fresh and distinctive but 'Barley', the single that heralded the release of 'Everyone's Crushed' by Water From Your Eyes, achieves that feat. Its rhythmic sound collage using electronics, atonal guitar lines and repetition is jarring, akin to being thrown around in the washing machine's spin cycle for three and a half minutes while hearing quotes from Sting and Sonic Youth lyrics. The song mischievously ends "One two three eleven / You're a cool thing count mountains" and feels giddily exhilarating. Water From Your Eyes are a New York based duo consisting of Rachel Brown (vocals) and Nate Amos
(instrumentation) who create experimental pop music using serialism and micro-tonalism invoking Glenn Branca's guitarscapes and the work of Japanese futurist pop composer Haruomi Hosono. That could make them sound like an earnest, chin-stroking, brow-furrowing prospect but that could not be further from the truth as their rhythmic and melodic sensibilities are joyfully absurd and their view of life's darkness is laced with humour.
'Everyone's Crushed' is a more collaborative and coherent album than its spasmodically enticing 2021 predecessor, 'Structure'. It makes a highly disruptive start with the, under the circumstances, confusingly titled 'Structure' and its electronic approximation of drilling before taking a more synthetic set of tones and highly auto-tuned vocals wanting to pray for rain. After the dizzying blast of 'Barley', the album catapults onto 'Out There' which exemplifies their rare blend of experimentalism and accessibility mixing harsh percussion with buoyant synth lines and abstract lyrics that appear to be expressionistically throwing together words ("Track Free Mend Three Bend Feed Knee Hands"). In contrast, the guitar feedback of 'Open' harks back to no-wave and makes for a
rare non-engaging track.
The title track affectingly switches four main words in its lyrical palette (hurt, love, everything, everyone) to twist meanings through Brown's semi-spoken delivery and the backing switches between minimalism, moody bass and swathes of twitchy guitar noise. 'True Life' gets meta throwing in a story about wanting to use lyrics from Neil Young's 'Cinnamon Girl' but being refused permission by his lawyers while a discordant guitar line that could be producing its interpretation of the nonsense vocal line from Lene Lovich's 'Lucky Number' saws through the frantic beats. 'Remember Not My Name' is notable for Brown's deadpan vocals mix of sweetness and quiet threat ("Harm me with a glance… When was the first time you heard the word saccharine… Knowing you is a thunderstorm") and icy sheets of guitar noise. The only track straying much beyond the three- minute mark, '14' compellingly adds elements of modern classical to the mix with its overlapping detuned strings and schlocky horror lyrics ("I'm ready to throw you up"), Brown's voice having that New York school of alternative music quality of malign innocence. The album concludes with 'Buy My Product', its skittering, scampering rhythm and doleful violin, accompanying its consumer satire ("clap your hands / buy my product/ there are no happy endings").
With an impressively high hit to miss ratio, 'Everyone's Crushed' offers one of the most sonically distinctive albums of recent years.
Water From Your Eyes: Everyone's Crushed – Out 26th May (Matador Records)