Hunter Valentine are a three-piece female rock band with catchy songs and a lot of attitude. Setting the bar for other girl bands, they hail from Canada, but more recently have been taking the NYC scene by storm. Now on the leg of their European tour, the band present us with their second album, Collide and conquer.
An eleven track record filled with bouncy rock songs and the occasional rock ballad, their sound is tight with good guitar riffs and some intricate drum lines. Think P!nk meets the Yeah Yeah Yeahs, meets The Gossip, meets Avril Lavigne (her first good album that is). Kiyomi has an interesting vocal style, sometimes angry, punchy and aggressive, sometimes vulnerable, controlled and smooth. Her voice stands out from this collection of tracks, a prominent feature within every song. It shifts the album through the gears, gaining pace as it goes, and comes with the full force of a New York City, riot girl attitude, no apologies, no excuses, attacking the listener's ears, and possibly, hearts.
This is an album about love, loss and heartbreak with stand out tracks like the opener 'Liar Liar', where Kiyomi sings, "You had your hands inside my pockets, taking away everything I own", in a sweet yet bitter tone, and the nicely titled 'Little Curse (shit happens)' and 'Gates of Hell'. The closer to the album, 'The Great Canadian Love Song', is a slowed down, emotional conclusion to the record. The lyrics, "It's been so long since I've seen you happy, it's been so long since I've seen you smile, I wish I could make you feel happy, I wish I could make you feel fine", sum up nicely the tone of this album. Fighting for the one you love and trying to give yourself to them through thick and thin are undertones throughout. As a whole, this record makes for a good listen, although there are at times a few dips in either quality or levels of interest, there are enough well written and well executed tracks to see you through to the end.
The girls of Hunter Valentine have also been some of the stand out characters on reality show The Real L Word, which follows 20-something lesbians through the ups and downs of day to day life. This show has cemented the band as a favourite of the gay community, helping to get their music out, spread the word and tour around the world.
This is definitely an outfit worth checking out, both on record and live.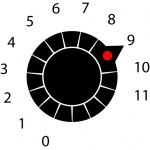 Release Date 17/06/2013 (Megaforce)