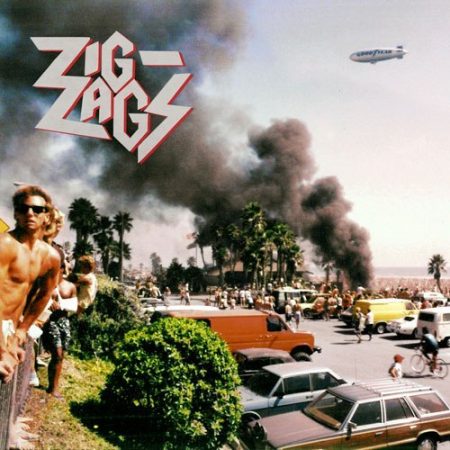 Zig Zags are a three piece from Los Angeles with a nine year pedigree and only one surviving member from their original line-up: vocalist and guitar player Jed Mahue.
The opening track 'Punk Fucking Metal' lives up to its name and beneath Mahue's Ozzy-reminiscent vocals, you can hear a band who aren't afraid to play music that straddles styles – there's a lot of early Metallica to be heard, particularly in the phrasing and content of the vocals on 'Killer of Killers'; there is some more melodic stuff, like the breakdown in 'No Way Out', which reminds me stylistically of the intro to the Red Hot Chill Peppers 'Deep Kick'; there is a chunk of punk in the music, too, and I'm reminded of Lagwagon, given the riffs the permeate the record and the garage-y West-coast flavour to the music. Album-ender 'God-Sized' shows shades of the musicality of Soundgarden's 'Bad Motorfinger' and the slow, riff-driven grunginess of Alice in Chains earliest material.
Mahue varies his approach across the album, too, with shades of Iggy Pop and Phil Anselmo creeping into his delivery of proper NWOBHM lyrics with all the hell, Satan and walking dead a metal-head could ask for thrown in along with some more thoughtful social commentary including 'Why I Carry a Knife'.
'They'll Never Take Us Alive' is short and sweet, with no filler. You'd have to go back twenty years for this album to sound cutting edge, but it's packed with riffs in the styles of both Megadeth and Dead Kennedys, proper face melters, head-banging instrumental sections and the odd stadium-worthy finale and as a whole, it's a very accessible, easy listen for any metal fan. It should appeal to fans of hardcore punk and 80's (and earlier) metal and there's plenty to recommend it for repeated listening, too.
Zig Zags: They'll Never Take Us Alive: released on May 10th 2019 and Zig Zags play Manchester Soup Kitchen on May 21st 2019.