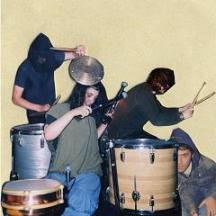 – THE RUBY LOUNGE, MANCHESTER –
Brooklyn act Gang Gang Dance seem an obvious choice to play Manchester's annual FutureEverything festival. The Festival is a celebration of digital culture, with a strong emphasis on innovation and breaking new ground. Over the course of five studio albums Gang Gang Dance have displayed a willingness to experiment, an ability to soak up a range of sounds and influences in order to conjure them into a distinctive style of their own, and an understanding of how to blend traditional instrumentation with modern technology in order to achieve their vision.
Gang Gang Dance open proceedings with 'Vacuum' from 2008s 'Saint Dymphna' album, and it's quickly apparent that percussion is going to be a key element of the show. Vocalist Lizzi Bougatsos stands centre stage with arms flailing as she bashes the hell out the various percussion instruments which are formed in circle around her, drummer Jesse Lee pounds away at a more conventional drum kit, and Tim Degraw adds swirling keyboard effects and triggers prerecorded samples to create an off kilter, woozy sonic backdrop. It's a fine opening statement.
Second track 'House Jam' carries things along nicely with it's euphoric keyboard line, although Lizzi Bougatsos' high pitched vocals aren't the clearest and sound a little off key, and at various points throughout the evening they verge on being irritating.
As the set progresses and starts to feature more material from current album 'Eye Contact' things start to unravel. The songs feature more dub and world music elements, and at times are more like a bad pastiche rather than a cutting edge blend of styles. This is particularly apparent on 'Chinese High' where the combination of two drummers and the upbeat squeaky keyboard melodies leave the song sounding like a cheesy carnival number.
Elements of the audience continue to shuffle along regardless, and while no one wants to be a killjoy, there's a five minute spell when I feel like I've been transported to an early 90s festival to watch a bad fusion act, and that's just not my idea of a good time.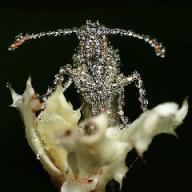 Things take a surreal turn when the guy from the merchandise stall arrives onstage wearing a hooded top and waving what appears to be a bin bag attached to a mop handle. He continues to amble around onstage for the remainder of the show like a bizarre, bargain basement Bez.
All is not lost, however. 'Glass Jar' is a track strong enough to illuminate any set, building patiently for five minutes with shimmering keyboards and delicate cymbals before reaching an exhilarating climax, and encore track 'Bebey' ensures proceedings finish on a high note.
Tonight's show is a real mixed bag that reflects Gang Gang Dance's many influences.  The problem is they aren't formulated in the cohesive fashion that serves them so well on record.