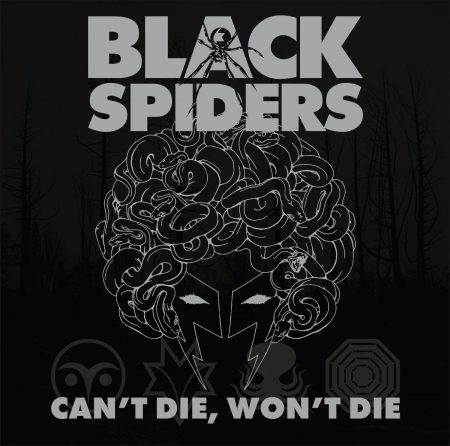 Black Spiders' attempt to combine hard rock, shoegaze, and grunge in their debut album 'Can't Die Won't Die' 'succeeds, thanks to the psychedelic overlay. Banger after banger is played all the way through just like a blend of Concrete Blonde, ZZ top and Danzig. 
A small taste of this album in the initial push gives that rock hard, fight hard, kickass upbeat energy. The car song that is known as 'Hot Wheels' is perfect for when you're having an awesome morning before work – coffee in one hand then wheel in the other. That feeling when the free bird solo hits on the motorway. Now that's one way to go down in flames, like a badass mofo! 
Remember this feeling through and through. You should expect an edgy upbeat flow. 
The drumming is a sensation I don't think I've heard before. A jaw dropping kick in the teeth. It's no surprise that these guys have played at Download. 
There is a subtle instinct and reminder of 'Slash' like guitar sounds. This hard rock drive is something however that shouldn't be turned away. It's hard rock, guns blazing. This force of clenching your fists and feeling like you're the lead singer of  Motorhead is what hard rock is about. 
I like to think that the whole soul of rock music is everything to me, and the more this genre grows the more special and refined and nuanced it feels. 
The writer Charles Shaar Murray once stated: "Hard rock was the sound of systems under stress, of energies raging against confinement and constriction, of forces which could not be contained, merely harnessed". Now that's pretty cool. And it's only because it's true. This new album is not something that should be confined so easily like most are. Some bands don't get the coverage they deserve despite being more consistent to fans and the production of music than most mainstream chocolate-starfish bands. 
And I do stand by that. The music industry is difficult to get through. If you're not this, you can't be that. If you don't do what they do, you're not going anywhere. Simply put, it's cruel. 
Anyhow, restricting The Black Spiders out of your catalogue of music is not right. All out, balls out is a phrase I've seen, but I can't remember where, nevermind, it fits this album perfectly!
There's a certain element of dad rock done right in this band. But not like Springsteen's mumble rap over country melodies. More like some hairy baboons with guitars and cool cars. I find It really interesting even though that sort of thing isn't for everyone. The ecstatic, engaging expression of sound, sort of fights the thunder in the storm. It's a fierce aroma in the sound the Spiders' make. 
If rock n roll had a mid-wife, it's The Black Spiders. 
The Black Spiders: Can't Die, Won't Die – Out 12th May 2023 (Spinefarm Records)