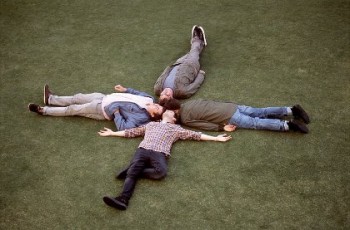 – THE RUBY LOUNGE, MANCHESTER –
It's Saturday night in Manchester but you wouldn't know it. The Northern Quarter is bustling with people but the energy doesn't seem to be there.
Maybe the hangovers from the previous bank holiday weekends revelry are still lingering. Maybe it's the predictably cold and grey weather hovering over our heads, despite it officially being summertime. Whatever it is, it could be better.
Cue Florida Alt Rockers Surfer Blood to bring some much needed Surf Punk sunshine back into our miserable lives.
Well at least they try to; singer John Paul Pitts does the traditional gig greetings to the Ruby Lounge audience which unfortunately is met with only a whimper of enthusiasm and the odd cough here and there. Looking slightly bemused the band launch into their set of slacker rock gems.
By the time they play 'Take it Easy' from their debut album Astro Coast, the crowd now seems to have trebled in size and Pitts is doing his damned hardest to captivate their attention. He takes his guitar off, grabs the mic and goes walkabout, displaying some rather 'interesting' dance moves along the way.
His efforts to get the crowd going are starting to have some kind of impact, though after a couple of sell out shows in London it's clearly not what they have become accustomed to.
Deciding that dancing like your Dad at a family Christmas party is probably not the best way to win over the Manchester faithful, he resorts to picking his guitar back up and strums out the opening chords to 'Floating Vibes'.
Maybe the beers are starting to kick in or the depression is starting to lift but everything changes immediately.
'Twin Peaks' follows on in quick succession and the post whatever city blues are blown to smithereens. JP is on a role now and knows he has the audience back in his hands, which obviously makes it the perfect time for him to say "So is everybody rolling on Ecstasy tonight?" Ah, those Americans and their crazy ideas of our quaint English traditions.
However, he wins us back again as the band fire out a truly fantastic version of their breakthrough single 'Swim (To Reach the End)'. The crowd and band both seem to be enjoying themselves now. Those initial inhibitions are but a distant memory as Surfer Blood play on.
The influence of bands such as Weezer and Pavement are there for all to see, however, Surfer Blood do posses a clutch of well crafted pop songs that they can call their very own.
Ok, there is no euphoric rush of ecstasy going on in the Ruby Lounge tonight but there is a sense of witnessing a great young band that may be around for a long time.