Laura Mvula steps onto Gorilla's stage, its backdrop a strange assemblage of archaic audio equipment, apparently salvaged from the recently deconstructed BBC building on Oxford Road.  The equipment looks almost steam-powered; incongruous perhaps, when set against the gorgeous, rounded voice that proceeds to part drift, part erupt, from the soul of this singer.
Laura Mvula has launched upon the music scene with similar gusto.  Her songs fill the room, each full of complex, shifting time signatures, unusual 5-part harmonies, fractured rhythms and a vocal style that seems to touch at times on African, tribal rhythms, then gospel.  It's like someone took Bjork from the Iceland tundra and plonked her down on the Serengeti.  And yet there is no-one quite like her, her music built from overlaying textures of sound, sounds that combine to form something almost otherwordly.  Harp, trumpet, double bass, cello, violin and drums all weave in and out of these magical, musical pieces.  But it's also about the spaces they each leave within the sonic fabric, both for the other instruments to come in, and for Laura's voice to soar.  Perhaps the harmony of the group derives from familial links – a sister on violin, a brother on cello – their shared harmonies haunting, spiritual. These varied instruments, and themes, might seem discordant: at times the harmonies seems to be in opposition to the melody, at one point the drumming is almost military, and yet everything always come to a resolution, the music working together, quite, quite beautifully.
Although she plays the occasional note on the piano keys, it's really about Mvula's voice: clear, strong, unforced.  Her stories between the songs bring them to life – 'Like The Morning Dew', 'Green Garden', 'Flying Without You' from her album – along with one new one – the crowd up and clapping with the upbeat, uplifting tracks; silent and respectful for the quiet ones.
OK, so the lyrical content of one song is rather Adele-like, and elsewhere the song 'Diamonds' suggests within its lyrics and rhythm African-influenced Paul Simon but really, you can't sound that unique, that effortless when transcending complex chord progressions, without being seriously musically adept.  However, despite her musical maturity, Laura remains wonderfully naïve as to the ways of this city.  Michael Jackson's 'Human Nature' forms an encore – Laura on vocals, her brother plucking a cello as though it were a double bass.  Laura invites people to join her and dance on stage.  Now we all know that if you invite people to dance on a stage in Manchester, you better mean it – as Mark Radcliffe once remarked, this is a city that thinks a table is for dancing on.  It's amusing, therefore, to watch security move in, to try and clear the stage of its discombobulated revelers.
 Music is about exploration, about following signs, notes, melodies.  My wife unearthed Laura Mvula on Spotify, as though wearing a tin hat, carrying a canary and mining these rich sonic seams of music.  That led to buying the album Sing To The Moon, Mvula's debut, which is pretty much on constant rotation in our house and car.   And that, in turn, led to the two of us finding ourselves at the very front of this stage, right next to Mvula's cherry red Wurlitzer electronic piano… so close we could reach out and touch her hands, and her blue-painted finger nails, sharing this one night, and this one room, in Manchester.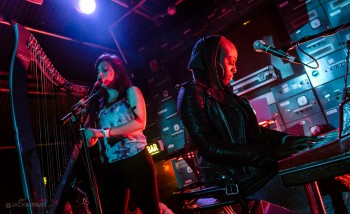 Photography by Jack Kirwin