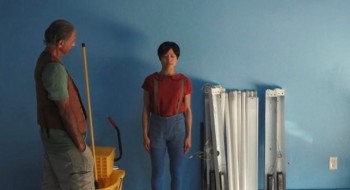 Here We Go Magic have released the video for their new single 'How Do I Know' ahead of the band's first UK shows in two years (full details below).
Directed by Sean Pecknold (Fleet Foxes, Beach House, Grizzly Bear) the video stars Janet Pants as a happy-go-lucky dancing robot who is being returned to the factory by her owner. Pecknold explains, "It takes place in the not-so-distant future where you will be able to custom order human like robots for your pleasure, and although some people will probably still be partial to the human flesh, I think some conflicts of emotion will arise. Humans, love, sex, technology, dancing, the future!"
Pecknold was introduced to the band by his brother Robin via traditional method – a road trip. "I was driving from Joshua Tree to Palm Springs on the highway, and my brother who was privy to the new Here We Go Magic record, said 'You have to hear this song.' So he put it on and we listened to it a couple times all 5 of us smiling with the wind in our hair. Then literally as we pulled into the parking lot in Palm Springs I got a message from the band about maybe doing a video for that very song."
He says of his vision for the track, "I wanted to return to the strangeness and warmth of the Palm Springs area to shoot a little story about a man torn between two choices in his life. When listening to the jam I kept seeing a human-like robot dancing on the side of the highway, so I incorporated that into a light-hearted, literal take on the question posed in the song."
'How Do I Know' is to be released on 7″ 21st May. The song is the molten core at the centre of 'A Different Ship', the new sunny and spacious album that the band recorded with Nigel Godrich. Set for release on the 7th May in the UK on Secretly Canadian.
The album is available for pre-order now with an instant digital download here. HWGM will also be touring the US later in May with indie-pop outfit Hospitality. The full run of shows include stops at Sasquatch, London's Field Day, Reading and Leeds Festival and Bonnaroo. The list of European dates are below.
TOUR DATES:
02/06/12 – London, UK – Field Day Festival
04/06/12 – Newcastle, UK – Evolution Festival
07/07/12 – Kinross, UK – T in The Park
05/07/12 – Liège, BE – Les Ardentes Festival
13/07/12 – Bilbao, ES – BBK Live Festival
14/07/12 – Oeiras, PT – Optimus Live
24/08/12 – Reading, UK – Reading Festival
25/08/12 – Leeds, UK – Leeds Festival